Drivers With Disabilities Remain Stymied by Fueling Regulations
Drivers With Disabilities Remain Stymied by Fueling Regulations
AB2563 offered a solution to the disability community in California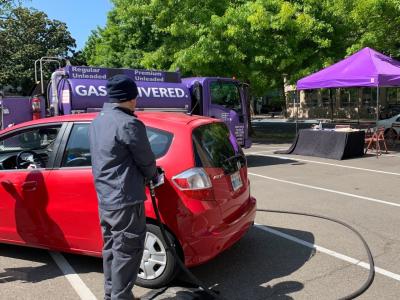 Tuesday, May 24, 2022 - 1:35pm
As the leading mobile energy provider, Booster is committed to delivering equal access to fuel for all, and our technology can help bring some independence to California drivers who live with disabilities. By delivering fuel directly to their tanks, we can remove the gas station experience from their lives altogether, which can be frustrating, inaccessible, and unsafe for drivers with disabilities.
Assembly Bill (AB) 2563, introduced earlier this year, offered a solution to the disability community in California by allowing mobile fueling on demand to expand responsibly throughout the state.
Laws regulating fuel dispensing were written before mobile fueling technology existed, which means that most of California's air districts have outdated rules that do not allow for mobile fueling.
While AB 2563 overwhelmingly passed the Assembly Transportation and Natural Resources committees with bipartisan support, it unfortunately died last week when it failed to move off of the Appropriations Committee suspense file.
This means at least another year will pass that drivers with disabilities will be denied a viable alternative to the gas station. For a driver with a disability, the gas station experience can be unpredictable. After finding an accessible option, parking the car, taking out a wheelchair and going over to the pump, only to discover that the credit card reader doesn't work, the call button is out of reach, or no staff around to help. These types of situations often put them in vulnerable positions to ask strangers for help and provide them with their credit cards.
In short, the gas station model was not designed for drivers with disabilities, and AB 2563 would have helped them live and drive without the burden and uncertainties of the gas station.
You can help with this important issue by joining Californians for Smart Fueling, a coalition dedicated to making California better for drivers with disabilities.