CSRHub Consensus ESG Data Integrates With Archer's ESG Score Connect Product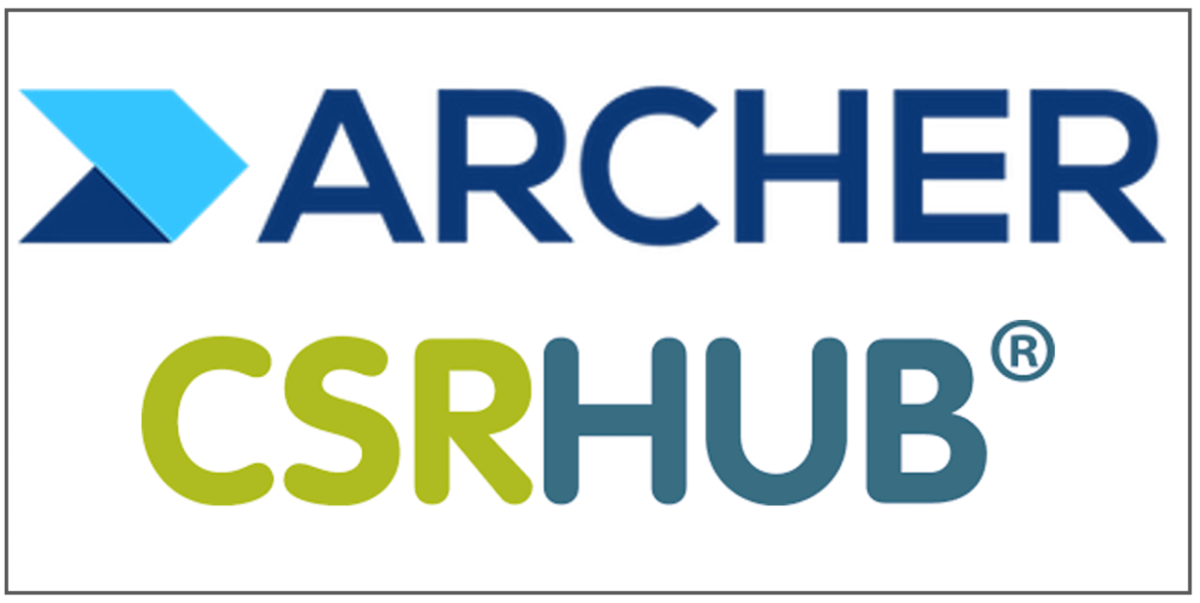 ESG Data Partnership
NEW YORK, August 16, 2023 /3BL/ - CSRHub is proud to announce it has partnered with Archer, the leading provider of integrated risk management solutions, to power its new product, Archer ESG Score Connect. ESG Score Connect will deliver sustainability data to Archer customers that will provide visibility into their vendors' third-party and investment portfolio companies ESG scores to help track their vendors' non-financial performance and mitigate ESG risks.
CSRHub ESG (Environment, Social and Governance) data can be used to identify supply chain risks and opportunities. It can identify outliers, leaders and laggards in ESG reporting and track the overall ESG performance of a company's suppliers. The data can also be used to compare a business's own supply chain rating against the score of its competitors and peers.
"CSRHub is excited to partner with Archer and incorporate CSRHub data into Archer's ESG Score Connect," says Co-Founder Cynthia Figge, "ESG Score Connect simplifies risk analysis and increases transparency for third party portfolios to help Archer customers create more sustainable outcomes."
In response to the growing demand for comprehensive Environmental, Social, and Governance (ESG) insights, Archer, a leader in integrated risk management, is proud to announce the launch of Archer ESG Score Connect, a revolutionary third-party ESG scoring product.
ESG Score Connect aims to empower businesses and investors with a robust and transparent assessment of their ESG performance. By leveraging advanced data analytics, ESG Score Connect provides a holistic evaluation of companies' sustainability practices, social impact, and governance standards. "These metrics provide organizations and investors with enhanced transparency, credibility, benchmarking, and protection against greenwashing," said Wes Loeffler, Archer Third Party Risk Management product manager.
CSRHub offers the world's broadest and most consistent set of Consensus Environment, Social, and Governance (ESG) ratings. Its Big Data algorithm combines a half billion data points on ESG performance from hundreds of expert sources, including the leading ESG analyst raters, to cover all aspects of ESG, corporate social responsibility and sustainability for more than 50,000 companies. CSRHub provides transparent access to ESG data to improve corporate ESG performance and global sustainability. For more information, visit www.CSRHub.com or https://www.archerirm.community/t5/exchange-overviews/archer-esg-score-connect-integration/ta-p/704215. CSRHub is a B Corporation.
About ARCHER
Archer is a leading provider of integrated risk management (IRM) solutions that enables customers to improve strategic decision-making and operational resilience with a modern technology platform that supports qualitative and quantitative analysis driven by both business and IT impacts. As a true pioneer in GRC software, Archer remains solely dedicated to helping customers manage risk and compliance domains, from traditional operational risk to ESG. With more than 20 years in the risk management industry, Archer's customer base represents one of the largest pure risk management communities globally, with more than 1,200 customers, including more than 50% of the Fortune 500. Visit www.ArcherIRM.com.