Crayola Thanks Thousands of Beloved Teachers Across America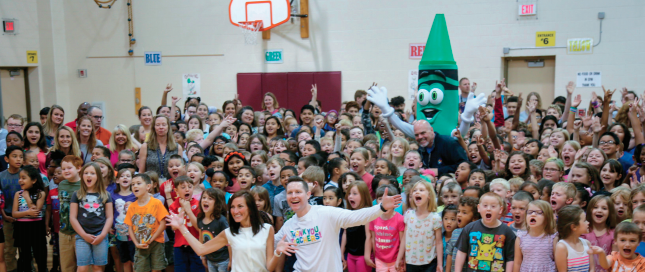 In 1903, Crayola co-founders Edwin Binney and C. Harold Smith created the first box of crayons. Alice Binney, Binney's wife and a former schoolteacher, named the new crayons "Crayola." 
In 2018, Crayola chose to celebrate its 115th birthday by paying homage to its legacy and thanking teachers for all they do. As a result, its Thank A Teacher initiative collected more than 300,000 thank-yous for teachers.
National Teacher Appreciation Day on May 8, 2018, kicked off the movement, with Crayola employees from across the country — including Holland — from across the country visiting more than 300 schools. The company provided each school $500 in supplies, an oversized box of crayons with thank-you notes and custom crayon boxes for every teacher. 
Crayola's well-known mascot, an eight-foot green crayon character named "Gus," even paid a visit to several schools to help colorfully express the company's admiration.
"A simple 'thank you' can go a long way," said Mimi Dixon, brand equity, strategy and activation manager, Crayola. "When we asked teachers what they were most motivated by, we learned time and time again it was handwritten notes. They often mentioned how their students gave them thank-you notes about what they were able to help them accomplish and they found that extremely rewarding. "
Crayola engaged celebrities Debra Messing and Erin Andrews, who thanked their own teachers and encouraged the nation to join them, both on social media and through a dedicated microsite. The site featured a sweepstakes and contest for those who submitted handwritten thank-you notes for teachers, providing a chance to win prizes for educators, schools and families. 
"Throughout this campaign, there were tears, hugs, smiles, and just so much gratitude as employees went out into the community and schools," explained Dixon. "It was so rewarding, both to teachers and our own Crayola employees. It gave them a chance to champion the brand and say 'thank you' to a local school or teacher." 
Dixon noted the Thank A Teacher movement was one of the largest efforts Crayola had produced to recognize teachers to date. 
A grateful recipient remarked, "As an educator myself, I cannot tell you how underappreciated so many teachers often feel. The teachers and administrators were simply awestruck that a person from such a well-known company would take the time to physically come face-toface with educators and say, 'thank you.'" 
Read more in Hallmark's Caring in Action Social Responsibility Report.
Download the attached file(s):