Corporate Responsibility Practitioner Roundup: Whirlpool Corporation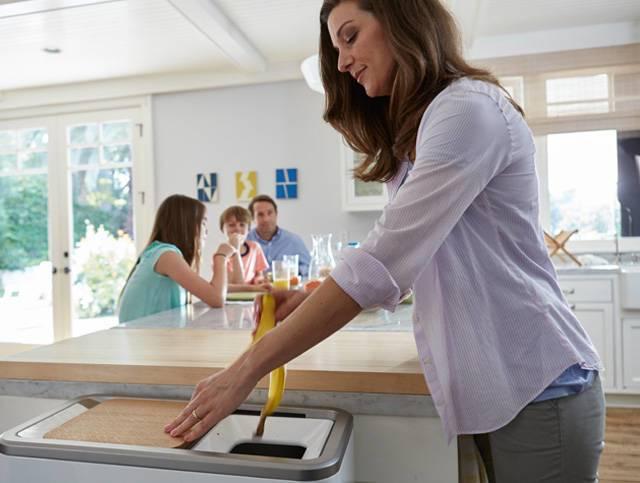 The Zara Food Recycler is from Whirlpool's WLabs innovation incubator.
Originally published on TriplePundit
CRMag: As a practitioner, how does telling the CR story feel different from everyday sales & marketing?
Ron Voglewede: It gives us an ability to talk about the why, not just the what. It is truly a forum to bring to life our continued focus on delivering on what matters and to show our continued progress and building better lives and communities, in addition to products that deliver a better quality of life for people around the globe.
CRMag: How has your understanding of CR's value proposition — both within your company or sector and as a general matter — evolved over time?
RV: At Whirlpool Corporation, we believe in an authentic approach to everything we do. Over the years, we've improved the robustness of our data acquisition and transparency, all while building trust with consumers. We have a consumer-centric view of sustainability – mainly, how do our products improve quality of life for someone in their home, and how do we employ a more holistic life cycle process? We are focusing on building an approach on positive impacts in both product creation and operational procedure.
CRMag: How do you convey CR's value proposition to your many different stakeholders? (Break it down by audiences: employees, customers, shareholders, regulators and other influencers.)
RV: We think the message is the same to all in a sense. Because the consumer is at the center, we are looking to build uncompromised solutions for people that don't sacrifice performance, time or effort, while lowering our footprints both in plants and operations, as well as our products in use. More specifically, we are going to do the same in our factories as what we want to provide for people in their homes. Getting that value equation across to regulators and others is key to creating an environment that both welcomes and promotes that goal.
CRMag: What is your CSR/sustainability corporate strategy for 2017 and beyond?
RV: We're looking to redefine better living. Sustainability is the future, and we think it really is a value and growth driver.  We can support the growth of our business while still giving consumers and communities products that positively impact the environment, are at a manageable cost to them, and truly enhance their lives. Our plan is to continue to deliver on the tremendous gains we have made in reducing the resources, material, and impact our products make, while increasing their performance, features, and innovation. Our strategy, therefore, is an enabler for our company's overall mission and strategy. We think in the future the house will work for you vs. you working for your house.
CRMag: What is your "Game-changer" message, program, philosophy or take away for our audience?
RV: Whirlpool believes in purposeful innovation – giving consumers products that will truly improve their lives. Whether it's the Scan-to-Cook technology or the Zera Food Recycler from WLabs of Whirlpool Corporation, our innovation incubator, Whirlpool Corporation isn't just talking the talk – we're walking the walk. We've taken an authentic approach to sustainability that began with grassroots goals, and built upon how we're going to impact communities, products, and consumers in their homes. Our innovation and sustainability approach, at their core, both attempt to understand how we solve the needs of people in their homes and lives, while making their impact on their communities and therefore the planet, less.
Image credit: Whirlpool Corporation website