Cintas Named a USA Today Climate Leader 2023
Cintas recognized for its ongoing efforts to reduce its environmental impact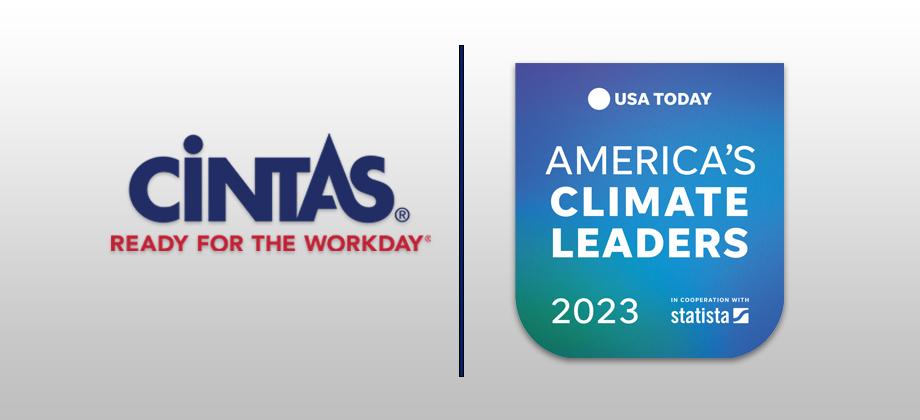 CINCINNATI, May 31, 2023 /3BL Media/ - In recognition of its commitment to and success in reducing its greenhouse gas emissions intensity in recent years, Cintas Corporation (Nasdaq: CTAS) has been named to the inaugural USA Today Climate Leader 2023 list.
To determine its first-ever Climate Leader list, USA Today teamed with Statista, a leading global provider of market and consumer data. They identified the U.S.-headquartered companies who met the inclusion criteria that achieved the greatest reductions in their core emissions intensities – the measurement of Scope 1 and 2 greenhouse gas emissions as a factor of revenue – between 2019 and 2021.
Cintas lowered the emissions intensity of its Scope 1 direct and Scope 2 indirect emissions from 113.1 metric tons of carbon dioxide equivalents per million dollars of revenue (MTCO2e/$M) in fiscal year 2019, to 89.3 MTCO2e/$M in fiscal year 2021, which ended on May 31, 2021.
In fiscal year 2022, Cintas lowered its emissions intensity by an additional 7.5% – to 82.6 MTCO2e/$M – to bring its four-year emissions intensity reduction to 27%. More information about Cintas' emissions performance and data methodologies is available in its 2022 ESG Report.
"Rallying around our sustainability vision – A Shared Drive for Better – has been important for us and our business," said Todd Schneider, Cintas President and CEO. "Our history of identifying opportunities and solutions through our culture of positive discontent has had a major impact on lowering our environmental impact.
"We appreciate USA Today for recognizing Cintas as a Climate Leader in its inaugural program. We believe innovation and advances in technology will continue to be important drivers in our sustainability initiatives, especially as we identify opportunities to pursue sustainable programs and processes throughout our business," Schneider added.
Enterprise-wide initiatives like an LED lighting conversion project and an ongoing dedication to Operational Excellence and Reliability initiatives have all helped contribute to the decrease in GHG emissions intensity.
Other more recent initiatives - including the rollout of its first electric fleet vehicles and its SmartTruck fleet routing optimization program – are expected to help contribute to ongoing emissions intensity reductions.
In September 2021, Cintas announced its ambition to achieve Net Zero GHG emissions by 2050 and has continued to build out its enterprise-wide sustainability strategy.
"We never stop challenging the status quo in everything we do to deliver A Shared Drive for Better," said Christy Nageleisen, Cintas Vice President of ESG. "As we continue on our ESG Journey, and especially our Path to Net Zero, we will continue to embrace opportunities that elevate sustainable solutions. We've made significant progress during the last few years in identifying more efficient ways to operate, and we'll continue to evaluate every input and output as we focus on reducing our environmental impact, including our direct and indirect emissions."
The company's sustainable business model dates back to the Great Depression when out-of-work circus performers Doc and Amelia Farmer collected dirty, discarded shop rags and laundered them at home before selling them back to the same Cincinnati-area companies and creating a local circular economy for otherwise end-of-life products.
As the family company continued to evolve, it continued to operate a reduce, reuse, repair, recycle program – first with rags and towels before expanding to other textiles and later rented workwear under Cintas Founder and Doc and Amelia's grandson, Dick Farmer.
Learn More about Cintas' ESG Journey
Cintas Corporation 
Cintas Corporation helps more than one million businesses of all types and sizes get Ready™ to open their doors with confidence every day by providing products and services that help keep their customers' facilities and employees clean, safe, and looking their best. With offerings including uniforms, mats, mops, towels, restroom supplies, workplace water services, first aid and safety products, eye-wash stations, safety training, fire extinguishers, sprinkler systems and alarm service, Cintas helps customers get Ready for the Workday®. Headquartered in Cincinnati, Cintas is a publicly held Fortune 500 company traded over the Nasdaq Global Select Market under the symbol CTAS and is a component of both the Standard & Poor's 500 Index and Nasdaq-100 Index.
Media Contact
Lizz Summers, Director of Corporate Affairs, summerse2@cintas.com, (513) 972-2859