Chemours Spain Achieves Great Place to Work® Certification for Second Year in a Row
Chemours Spain Achieves Great Place to Work® Certification for Second Year in a Row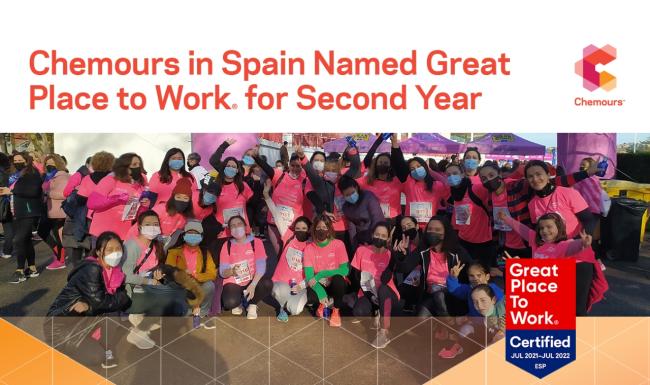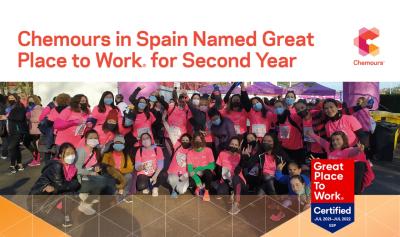 Monday, May 23, 2022 - 1:05pm
In April, the Chemours team in Spain received great news—Chemours Spain was certified as a Great Place to Work® for the second consecutive year.
"We are thrilled to receive this recognition, which is the result of the passion, talent, engagement, and diversity of our teams in Spain," said Pilar Aiguadé, Country Leader for Chemours Spain.
Great Place to Work® is the global authority on workplace culture. Since 1992, they have surveyed more than 100 million employees worldwide and used those deep insights to define what makes a great workplace. The Great Place to Work® certification is the most definitive "employer-of-choice" recognition that companies aspire to achieve. It is the only recognition based entirely on what employees report about their workplace experience—specifically, how consistently they experience a high-trust workplace.
For the Chemours Spain team, the Great Place to Work® certification is a testament to the culture they have worked so hard to nurture over the years.
Located in Gijón, our offices in Asturias are an extension of the main office located in Wilmington, Delaware, and support the different businesses across functions including Finance, HR, Procurement, Legal, IT, and Project Analysis and Management (Scrum management).
The team has excellent, expert, and professional human capital representing various nationalities and speaking more than ten languages.
The Chemours Spain team's success lies in empowering employees through trust, collaboration, mutual support, and commitment to maintaining Chemours' high-quality standards and continually innovating to seek simplicity in processes to increase productivity.
About Chemours
The Chemours Company (NYSE: CC) is a global leader in Titanium Technologies, Thermal & Specialized Solutions, and Advanced Performance Materials, providing its customers with solutions in a wide range of industries with market-defining products, application expertise and chemistry-based innovations. We deliver customized solutions with a wide range of industrial and specialty chemicals products for markets, including coatings, plastics, refrigeration and air conditioning, transportation, semiconductor and consumer electronics, general industrial, and oil and gas. Our flagship products include prominent brands such as Ti-Pure™, Opteon™, Freon™, Teflon™, Viton™, Nafion™, and Krytox™. The company has approximately 6,400 employees and 29 manufacturing sites serving approximately 3,200 customers in approximately 120 countries. Chemours is headquartered in Wilmington, Delaware and is listed on the NYSE under the symbol CC.
For more information, we invite you to visit chemours.com or follow us on Twitter @Chemours and LinkedIn.