The Chemours Future of Chemistry Scholarship Program Invests in the Next Generation of STEM Professionals
The Chemours Future of Chemistry Scholarship Program Invests in the Next Generation of STEM Professionals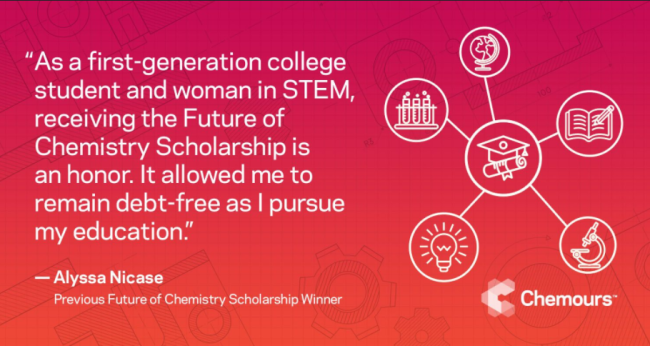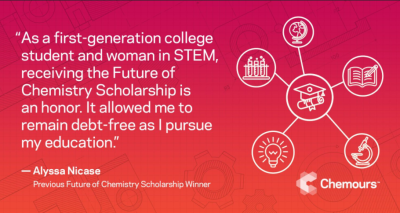 Thursday, February 17, 2022 - 10:30am
The Chemours Company has launched two additional Future of Chemistry Scholarships for students pursuing undergraduate degrees in science, technology, engineering, and mathematics (STEM). Consistent with the company's broader Corporate Responsibility Commitment, which includes goals on increased diversity and gender parity, the Future of Chemistry Scholarship program is part of Chemours' commitment to broadening access to STEM education in the communities where it operates.
In partnership with the Society of Women Engineers (SWE), the Chemours Future of Chemistry Scholarship-Houston Area is a $40,000 scholarship distributed over four years and open to female high school students living in the Greater Houston area who wish to pursue an engineering or engineering-related degree. Interested scholars can apply here, and the application closes on March 1, 2022.
The Future of Chemistry Scholarship, sponsored by the Chemours Latin American Resource Organization (CLARO), supports U.S.-based Hispanic and Latin American students interested in studying STEM-related fields. Five qualified high school seniors will be selected to win a $5,000 scholarship. Students can apply here, and the application closes on March 15, 2022.
Since its inception in 2018, the Chemours Future of Chemistry program has awarded scholarships to over 60 students totaling more than $1 million dollars. Chemours looks forward to engaging more scholars in the year ahead on their road to a rewarding STEM-related career.