Aurora Organic Dairy Commits to 100% Carbon-Neutral Energy in Its Fourth Sustainability Report
Strengthens commitment to its Animals, People and the Planet throughout its supply chain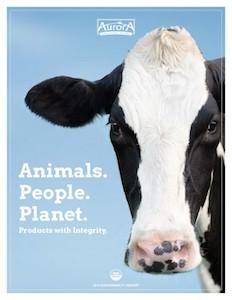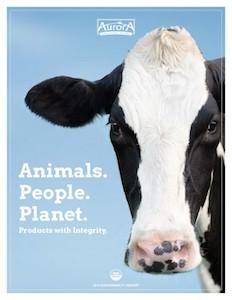 Aurora Organic Dairy, the leading producer of organic dairy products for the store brand market, today published its 2019 Sustainability Report. The report provides a detailed and transparent update on the Company and its progress toward goals to improve its sustainability performance around three core pillars of Animals, People and Planet.
With its support of more than 75,000 acres of organic farmland operated by more than 100 independent farmers, and 12,000 organic pasture acres surrounding its dairy farms, the leading producer of organic milk for store brand retailers has the scale to positively impact more animals, people and the environment with its commitment to animal welfare, employee care and environmental stewardship.
The Company announced updated goals that encompass three key areas:
Caring for the comfort and well-being of its cows and calves, always putting animal care at the forefront of farming practices.
Employee safety and wellness, and local community support.
Commitments to greenhouse gas (GHG) reduction, water efficiency and waste reduction, and one important new goal to commit to 100% carbon-neutral energy by the end of 2020.
"At Aurora Organic Dairy, we have a longstanding commitment to continuous improvement when it comes to our animals, people and planet," said Scott McGinty, CEO of Aurora Organic Dairy. "While we are proud of our achievements, in today's world, we cannot rest. We must continue to do more to support our animals and people, the environment and our local communities. Our updated sustainability goals strengthen this commitment."
The Company's sustainability goals – established against 2012 baseline data – include many initiatives that have bolstered Aurora Organic Dairy's sustainability performance:
Aurora Organic Dairy farms improved the overall welfare of its animals through goals to reduce lameness, to perform fewer dehorning procedures, to used paired calf housing and to increase video monitoring.
Significant progress against People goals was made with increased training programs, communications around the value of benefits, bilingual communication and community centers in remote farm locations. Going forward, Aurora Organic Dairy will continue its focus on safety and on employee volunteerism. 
For the Planet, Aurora Organic Dairy achieved significant reductions in water and energy. Its milk plant achieved a 71% solid waste landfill diversion rate, and normalized GHG emissions were down 11%. The Company is committed to reducing its GHG emissions by 30% by 2025. Given the urgent need to address climate change globally, Aurora Organic Dairy has made an important commitment to 100% carbon-neutral energy by the end of 2020.
"This last year was a milestone for Aurora Organic Dairy in terms of environmental stewardship," said Craig Edwards, Director of Sustainability for Aurora Organic Dairy. "We installed solar arrays at our High Plains and High Ridge Dairies in Gill, Colo. and we committed to 100% carbon-neutral energy by the end of 2020. To get there, we will invest in renewable energy projects directly and will support additional projects by purchasing Renewable Energy Certificates and Verified Emission Reductions to address 100% of our electricity and fuels use across our Company farms, raw milk transport, milk plants and headquarters."
ABOUT AURORA ORGANIC DAIRY
Aurora Organic Dairy is the leading producer of store-brand organic milk and butter for U.S. retailers. Based in Boulder, Colorado, it operates a heifer farm and organic dairy farms in Colorado and Texas, as well as organic dairy processing plants in Platteville, Colorado and Columbia, Missouri. Organic agriculture, animal care and sustainable production are the cornerstones of Aurora Organic Dairy's business. Each of its farms are dual-certified organic by USDA National Organic Program accredited certifiers and certified by Validus, a leading independent animal welfare auditor.
Aurora Organic Dairy is involved in overseeing organic standards from cow to carton. It monitors the entire product lifecycle, to ensure quality from its farms to its processing facility. For more information, visit www.aodmilk.com.
Media Contact:
Sonja Tuitele, Director of Communications, 303.222.0637