Amid Changes in the Federal Regulatory Landscape, States Take the Lead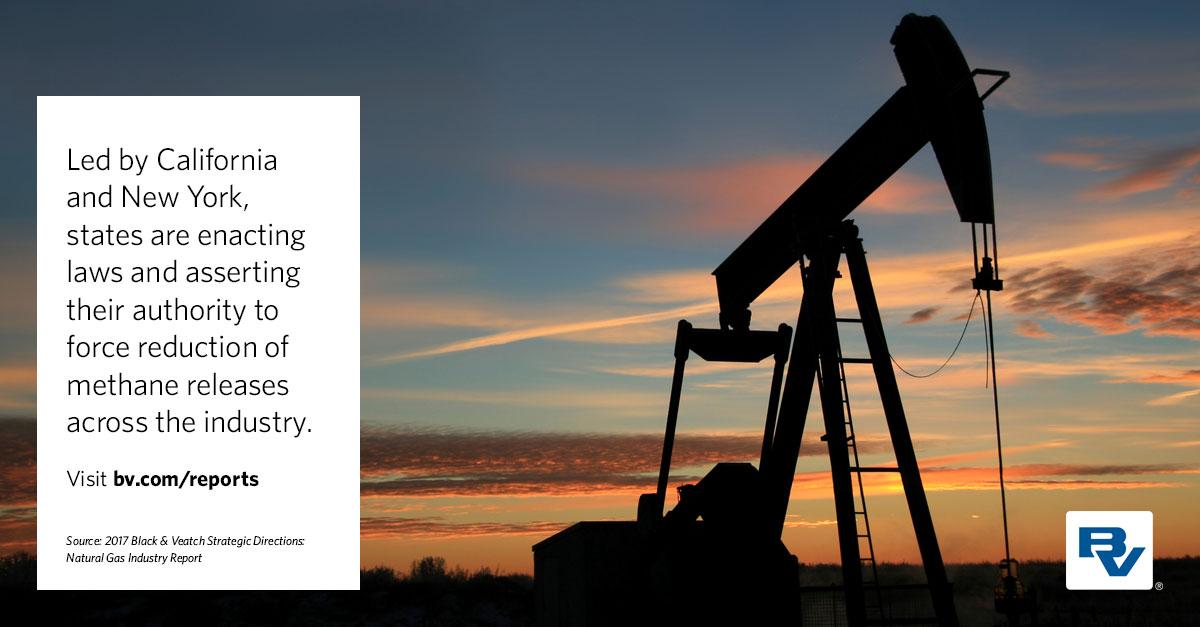 Amid Changes in the Federal Regulatory Landscape, States Take the Lead
Capitalizing on sustained low natural gas prices, the United States has seen a fair amount of build-out of new pipeline infrastructure to reach new markets since last year's Strategic Directions: Natural Gas Industry Report. Additionally, the changeover in administrations at the federal level is widely seen as favorable for continued industry growth. However, despite announced intentions to immediately accelerate energy infrastructure development, several bumps have been encountered right out of the gate.
Download the 2017 Natural Gas Industry Report
Vacancies on the Federal Energy Regulatory Commission (FERC) have constricted approvals of major interstate pipeline projects. Increased activist opposition has brought more media coverage and public scrutiny to project development and construction activities. The saga of the Environmental Protection Agency (EPA) methane rule has led to several readjustments in strategies from natural gas providers. And while federal compliance requirements continue to fluctuate, many states are preparing their own regulations for greenhouse gas emissions.
Delayed FERC Approvals Stall Projects
One of the biggest regulatory issues in the natural gas industry this year has been the lack of a FERC quorum. The departure of its former chairman, Norman Bay, in February left FERC unable to provide approval decisions on major energy projects for over six months until new members could be nominated and confirmed by the Senate. It was the first time FERC was without a quorum for an extended period in its 40-year existence, which held up projects worth more than $50 billion in private capital, according to the Electric Reliability Coordinating Council (ERCC). With the quorum finally in place for the September 2017 monthly meeting, the pace has picked up, but the backlog of project approvals — normally a long process to begin with — has kept many stalled.
Project cost is typically most impacted by delays in regulatory approvals as schedules are extended. Delayed construction times can affect material prices and labor availability, and even impose seasonal restrictions depending on project locations.
However, overall impact for utilities, generators and other industry organizations was minimal, according to this year's report results. Survey respondents revealed that only a little more than 6 percent felt a "significant impact" from the absence of a FERC quorum, and about 34 percent called the impact "slight."
Impacts of Public Opposition to Pipeline Development
A continued increase in activist groups has brought heightened media focus and public awareness to the industry and projects. Demonstrations at FERC meetings have been so disruptive that last year the commission resorted to holding monthly meetings by webcast. Smaller protests at project sites have forced construction crews to be reassigned temporarily, while organized opposition groups have managed to disrupt and delay local officials from giving the approvals necessary to advance projects. Lawsuits have proliferated, challenging projects and authorities at all levels, including FERC's granting of eminent domain to pipeline developers. These interference and delay tactics have financial implications beyond construction, as companies have needed to increase funding toward public relations initiatives, engaging local government officials and community outreach efforts.
Increased media coverage also has brought heightened public scrutiny on incidents at many major projects. States have asserted their authorities to bring enforcement actions and even suspend projects where construction mishaps have caused damages to ecological and historical resources.
Nearly 60 percent of this year's survey respondents have felt the heat from the increase in activist groups and public opposition to pipeline development projects. Construction progress takes the biggest hit (32 percent); and approximately 24 percent say permitting delays and more regulatory scrutiny were a result of increased public opposition.
States Take Lead on Climate Action
The Trump administration reversed course on national climate change initiatives by promptly announcing withdrawal from the Paris climate agreement and issuing executive orders to reconsider and repeal numerous carbon-reduction programs. The 2016 methane rule for oil and gas operations was immediately targeted by both the EPA and Congress for repeal. Despite their resolve, congressional repeal votes have so far fallen short, and the EPA's attempt to suspend the rule was initially supported but then rebuffed by the courts. Once thought to be dead, its back-and-forth status has created uncertainty and left many in the industry whipsawed in their ongoing compliance management efforts. While the fate of this and other greenhouse gas rules at the federal level still appears tenuous, several states are stepping into the growing federal void to address climate change issues. Led by California and New York, states are enacting laws and asserting their authority to force reduction of methane releases across the industry.
When polled, survey respondents seem to be in agreement that commitment to environmental priorities at the state level will increase, especially when it comes to climate change programs. While less than one-third think fewer than 10 will develop their own programs, most see up to 30 states enacting their own laws to fill the void. Just over 17 percent say 30 or more states will have new climate programs to roll out in the future. As the industry continues to monitor the regulatory landscape at the federal level, rules at the state level could set the standard for years to come.