7 Nestlé Brand Stories You Missed in 2017
Our brands were busy in 2017 — find out what they were up to!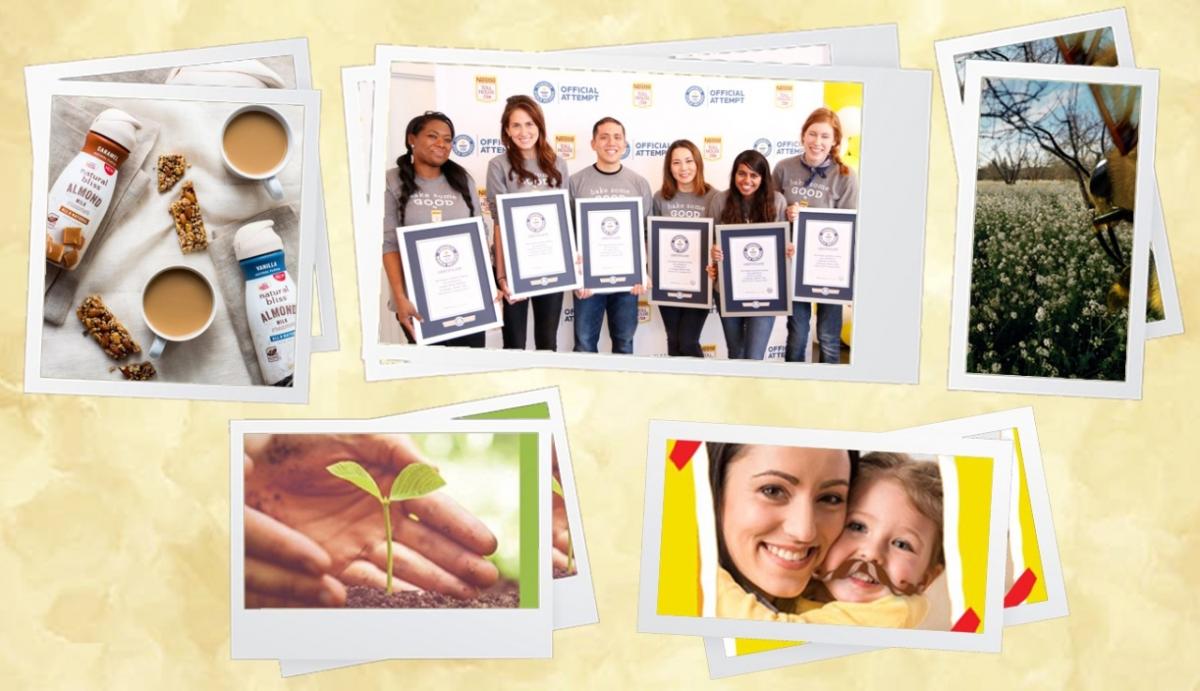 Originally published on Medium
by Shorouk Elkobrsi
2017 was an eventful year here at Nestlé. We launched innovative products, had new learnings on the joy of pizza, broke Guinness World Records, and welcomed new members to our family.
We know you had a busy year too — so in case you missed any of our biggest stories, we've got a quick roundup of the highlights for you:
1. Bringing Plant-Based Creamers to Life
Do you enjoy a cup of coffee that's deliciously smooth and creamy, with a hint of flavor and a touch of sweetness? Now plant-based diet lovers can enjoy it too.
Coffee-mate natural bliss has been transforming the coffee creamer category since 2011. In 2017, the team took the next step in an ongoing journey to offer consumers a line of dairy alternative products such as almond milk and coconut milk made with all-natural ingredients. True to all Coffee-mate natural bliss products, the new coffee creamers are made with real simple ingredients like real almonds, coconuts from Sumatra, vanilla from Madagascar, and pure cane sugar to offer consumers an all-natural alternative to traditional dairy creamers.
"We know the popularity of plant-based, non-dairy creamers is not just a trend, but a consumer preference that is here to stay. Using just a few simple ingredients not only expands our natural bliss offerings, but delivers a delicious, creamy and flavorful option."
- Daniel Jhung, Vice President of Marketing, Nestlé USA
2. Capturing the Power of Pizza
If you're a DiGiorno fan like I am, then you will definitely understand how the power of pizza can bring you joy!
DiGiorno conducted a social experiment that measured the effect of pizza on the moods of partygoers — and the result was surprising. While most would think it's the first delicious bite that elevates our mood most, partygoers were actually happiest when pizza was baking in the oven and its aroma filled the room meaning that baking pizza in your own oven is a sure-fire way to elevate any experience.
3. Setting a Guinness World Record
In 2017, the Nestlé Toll House team took on a mission: #BakeSomeGood for 100 days. They baked and delivered fresh treats to TSA workers, military counselors, volunteers at nonprofits, and even black-Friday retail workers — because a freshly baked cookie can really brighten up any day. Throughout the #BakeSomeGood campaign, the bakers made 20,878 baked goods, spent 853 hours in the kitchen baking, traveled 14,860 miles throughout the city of Chicago and created 16,656 smiles.
On the 100th day, Nestlé Toll House officially established the Guinness World Records title for the most consecutive hours of baking with a whopping 25 straight hours of baking as they created more than 7,000 treats for Meals on Wheels.
4. Helping Bees Thrive with Creation of Pollinator Habitats
With a passion for creating extraordinary ice cream experiences from the finest ingredients, Häagen-Dazs has always been committed to sustainable agricultural practices.
After launching the "Häagen-Dazs Loves Honey Bees" program in 2008, Häagen-Dazs focused on practical initiatives to rejuvenate pollinator habitats and make sure native bees flourish. In April 2017, the team worked with agronomists and farmers to support a habitat located in Chowchilla, California that would support bee populations.
"Bees are critical to the environment, supporting one-third of the world's crops, including ingredients that are used in more than one-third of Häagen-Dazs ice cream flavors. We've taken a big step by building an incredible pollinator habitat, and we will continue to replicate this work."
— Alex Placzek, Häagen-Dazs Brand Director
5. Creating a True Cooking Companion with a New Skill for Amazon Alexa
Who doesn't want a sous chef who's always available in the kitchen?
To help you enjoy a richer cooking experience, Nestlé partnered with Amazon Alexa's unique voice-assistant technology that provides recipe instructions and step-by-step visual guides. The GoodNes skill for Amazon Alexa also offers further nutritional information, ingredients, fun facts, and how-to videos designed to help you learn new cooking techniques.
We developed the GoodNes skill for Amazon Alexa to help digitally-enabled consumers looking for simpler, more convenient, and more inspirational meal solutions and guidance."
— Josh Baillon, Nestlé Digital Innovation Manager
6. Supporting Soil Health, Starting on the Farm
Good nutrition starts with healthy soil.
In 2017, Nestlé Purina PetCare Company announced its support for The Nature Conservancy's reThink Soil initiative. The national initiative helps farmers leverage efforts to improve cropland soil health across the U.S.
The Nestlé Purina team committed $1 million over five years to play an essential role in securing a healthy livelihood for farmers and healthy food for people and pets.
"We understand and appreciate that healthy soil is the foundation for healthy agricultural products that nourish people and pets. Soil underlies all of our quality ingredients grown and raised in the U.S., including soy, corn, wheat, rice, and meat."
— Jack Scott, Nestlé Purina Head of Sustainability
7. Rocking a Great Mustache for Men's Health
In November 2017, Nesquik partnered with the Movember Foundation to raise awareness and funds for men's health. By joining forces with Movember, Nesquik encouraged fans of all ages and genders to make a Nesquik chocolate milk mustache as part of this year's Movember initiatives in order to support the men in their lives and raise awareness of men's health.
"The values and mission of the Movember Foundation are ones to be admired, and we at Nestlé and Nesquik are big supporters of how the organization raises awareness for tough issues in a fun and community-driven way."
— Melanie Zachar, Nesquik Marketing Manager