A New Approach to Recycling Plastics
A New Approach to Recycling Plastics
VolCat turns waste polyethylene terephthalate (PET) into a substance ready to be fed directly into new plastic manufacturing.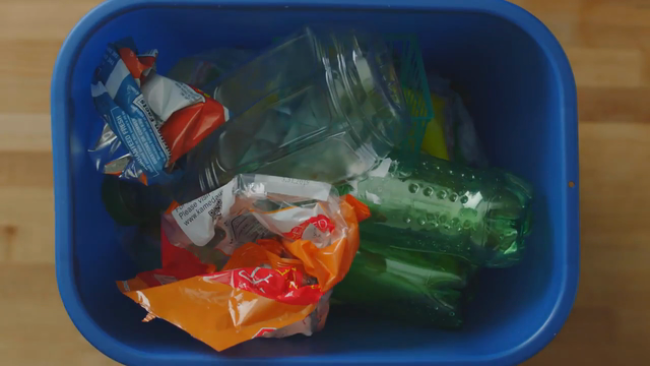 tweet me:
Used plastic may become the next renewable resource, thanks to a radical new process from @IBMResearch http://bit.ly/2OjEys4
Friday, November 8, 2019 - 10:35am
NEWSROOM: IBM
CONTENT: Article
Used plastic may become the next renewable resource, thanks to a radical new process from IBM Research™ called VolCat. 
In lab tests, the process — short for volatile catalyst — turns used plastic bottles into piles of a pure material that can be used to manufacture new plastic products, replacing petroleum-based feedstocks.
Today, plastic recycling is suffering from a worldwide glut, a lack of processing plants and problems with contamination. VolCat offers hope for a near-term solution that could help keep plastic waste out of our oceans. The robust process is tolerant of contamination with dirt and other materials — which has been one of the roadblocks for large-scale recycling.
The new process uses a chemical catalyst, a pressure cooker and heat to digest ground-up pieces of many kinds of plastic. "This catalyst selectively digests the plastic, breaking it down very, very rapidly," says Bob Allen, senior manager of polymer science and technology at IBM Research. Food, dirt and other contaminants can be filtered out and the catalyst itself can be removed and recovered, leaving a pure substance ready for new uses.
This recent discovery stemmed from decades of polymer catalysis innovation, including a chemical amplification process invented by IBM that is used in the fabrication of all semiconductors today. IBM researchers used chemical simulation to identify the catalyst itself.
The new VolCat process could allow for the kind of reuse central to the circular economy. 
"We believe we're at the start of a new era of innovation in the plastics recycling industry," adds Allen. "There is such a powerful need to turn waste plastics into new plastics so that they become essentially a renewable resource."
More From IBM
Friday, March 19, 2021 - 10:00am
Thursday, March 18, 2021 - 9:00am
Wednesday, March 17, 2021 - 10:00am