Merck Partners with INROADS to Launch College Links
Merck Partners with INROADS to Launch College Links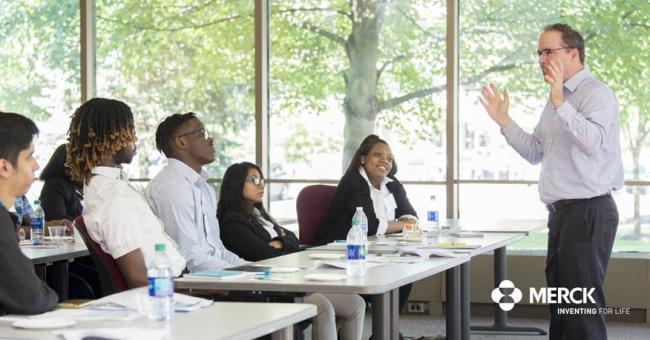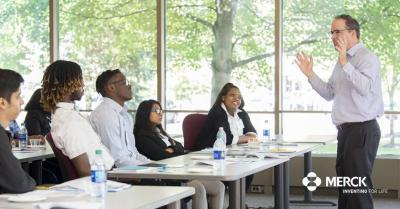 tweet me:
.@Merck and @INROADS partner to introduce Newark youth to career and community opportunities http://bit.ly/2lJrXAL #PoweredByInclusion #STEM
Tuesday, July 16, 2019 - 12:10pm
Merck hosted the next generation of talent recently when a group of high school students toured the company's Kenilworth site as part of the INROADS College Links program. Merck partnered with INROADS, an international nonprofit organization that prepares talented, diverse youth for corporate and community leadership, to launch College Links in Newark, New Jersey earlier this year.
The scholars learned about careers at Merck during a panel discussion and Q&A session, received personalized advice during one-on-one mentoring sessions and wrapped up the day with a 3D printing demonstration and a presentation by four STEM (science, technology, engineering and math) scientists.
 Zy-Asiah Gray-Smalls, 16, an incoming junior at Newark Collegiate Academy, said her favorite part of the day was the panel called "Careers at Merck: From Campus to Corporate."
"The panel was very diverse," she explained. "That was something new for me because usually when we go to corporate events, women aren't usually brought on panels. I liked that they were of color and women – it shows I can do something similar to this and I can be accepted."
INROADS College Links launched at KIPP Newark Collegiate Academy in January and provides high-potential, but under-resourced high school students in 9th, 10th and 11th grade with meaningful opportunities for growth and development in business and STEM fields.
INROADS College Links prepares its scholars for successful college and career paths by offering year-round programs that include development seminars, mentorship, hands-on career exploration, job shadowing and more.
More From Merck & Co., Inc.
Wednesday, April 1, 2020 - 3:45pm
Tuesday, March 31, 2020 - 10:05am
Thursday, March 26, 2020 - 4:40pm