KeyBank Provides a Total of $49.7 Million in Financing for Colorado Affordable Housing Development
KeyBank Provides a Total of $49.7 Million in Financing for Colorado Affordable Housing Development
Eaton Street Apartments will help revitalize the neighborhood and provide critical, quality affordable housing for low-income families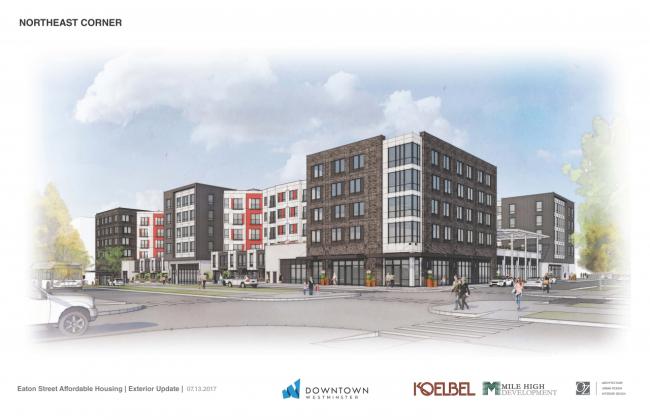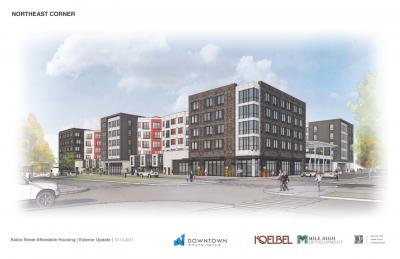 tweet me:
.@KeyBank is providing$49.7M to finance for #Colorado #affordablehousing development http://bit.ly/2GpZMLI
Wednesday, May 16, 2018 - 12:15pm
CLEVELAND, May 16, 2018 /3BL Media/ — KeyBank's Community Development Lending & Investment (CDLI) team has provided a total of $49.7 million in financing to a joint venture among Koelbel and Company, Mile High Development and Longs Peak Advisors to support the new construction of Eaton Street Apartments, a 118-unit affordable housing development in Westminster, CO. Specifically, KeyBank provided a $24.8 million construction loan, a $14.1 million LIHTC equity investment and a $10.8 million Fannie Mae permanent loan. Jefferson County Housing Authority is a Special Limited Partner.
"KeyBank is dedicated to creating safe and decent affordable housing to the communities we serve across the country," said Rob Likes, national manager of KeyBank's CDLI team. "The ability to leverage our fully integrated platform to secure on- and off-balance sheet financing allows us to provide the best solutions for our clients' individual needs."
Eaton Street Apartments is a key component in the "Downtown Westminster" redevelopment plan and will be a mixed-use building with over 22,000 net rentable square feet of ground-floor retail space. Ninety-nine units will be reserved for households earning 60% or less AMI and eight units will be reserved for households earning 50% or less AMI. The remaining 11 units will target households earning 30% or less AMI and be supported by project-based Section 8 vouchers. Construction of the property began in 2018.
Beth Palmer and Sarah Geis of KeyBank's CDLI team, along with Jeff Rodman of KeyBank's Commercial Mortgage Group, arranged the financing.
Additional funding was provided by the City of Westminster, Jefferson County and the Colorado Division of Housing's Colorado Housing Investment Fund (CHIF). Private Activity Bonds were issued by the Colorado Housing and Finance Authority. Ron Lehr and Sam Adams of KeyBanc Capital Markets provided underwriting and remarketing services for the bond issuance.
About Key Community Development Lending/Investment
KeyBank Community Development Lending and Investment (CDLI) helps fulfill Key's purpose to help clients and communities thrive by financing projects that stabilize and revitalize communities. Experts in complex tax credit lending and investing, Key is one of a handful of affordable housing lenders in the country with a platform that brings together balance sheet, equity, and permanent loan offerings. CDLI has a substantial investment and loan portfolio worth more than $2 billion, 90% of which is Low Income Housing Tax Credit (LIHTC) projects. For its ability to lend to, invest in, and serve its communities –especially low-to-moderate income communities – KeyBank has earned eight consecutive "Outstanding" ratings on the Community Reinvestment Act exam, from the Office of the Comptroller of the Currency.
About KeyBanc Capital Markets
KeyBanc Capital Markets is a leading corporate and investment bank providing capital markets and advisory solutions to dynamic companies capitalizing on opportunities in changing industries. Our deep industry expertise, broad capabilities and unique ideas are seamlessly delivered to companies across the Consumer & Retail, Diversified Industries, Healthcare, Industrial, Oil & Gas, Real Estate, Utilities, Power & Renewables, and Technology verticals. With over 800 professionals across a national platform, KeyBanc Capital Markets has more than $30 billion of capital committed to clients and an award-winning Equity Research team that provides coverage on over 700 publicly-traded companies. KeyBanc Capital Markets is a trade name under which corporate and investment banking products and services of KeyCorp and its subsidiaries, KeyBanc Capital Markets Inc., Member NYSE/FINRA/SIPC ("KBCMI"), and KeyBank National Association ("KeyBank N.A."), are marketed. Securities products and services are offered by KeyBanc Capital Markets Inc. and its licensed securities representatives, who may also be employees of KeyBank N.A. Banking products and services are offered by KeyBank N.A.
About KeyCorp
KeyCorp's roots trace back 190 years to Albany, New York. Headquartered in Cleveland, Ohio, Key is one of the nation's largest bank-based financial services companies, with assets of approximately $137.0 billion at March 31, 2018. Key provides deposit, lending, cash management, and investment services to individuals and businesses in 15 states under the name KeyBank National Association through a network of approximately 1,200 branches and more than 1,500 ATMs. Key also provides a broad range of sophisticated corporate and investment banking products, such as merger and acquisition advice, public and private debt and equity, syndications and derivatives to middle market companies in selected industries throughout the United States under the KeyBanc Capital Markets trade name. For more information, visit https://www.key.com/. KeyBank is Member FDIC.
More From KeyBank
Tuesday, January 29, 2019 - 10:00am
Monday, January 28, 2019 - 10:00am
Monday, January 28, 2019 - 8:00am