Ecocentricity Blog: Six Down, Many More to Go
Ecocentricity Blog: Six Down, Many More to Go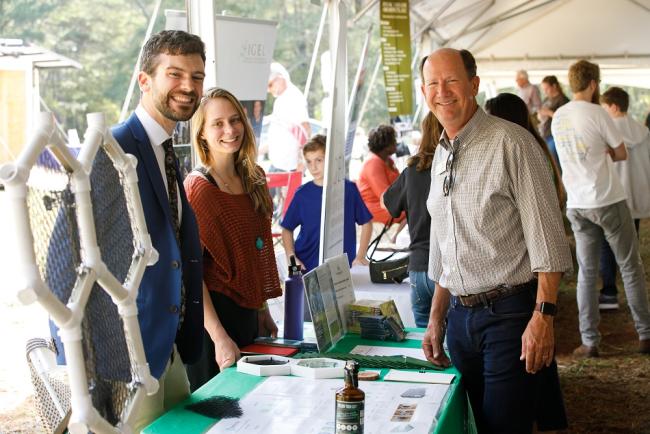 tweet me:
What matters most, however, are not the conversations that the Foundation trustees and staff have with guests. It's the conversations the guests have among themselves. #RayDay2018 #RayDay2018 @johnalanierRCAF http://bit.ly/2StFw3j
Tuesday, October 30, 2018 - 3:45pm
Six for six! We are still batting a thousand, though I guess we can't take credit for it. Chalk it up to luck or serendipity or whatever, but I'll still take it. RayDay was once again rain-free!
On October 14th in a field down at Serenbe (a lovely community just a half hour or so from Atlanta), we hosted our sixth annual RayDay. More than 2000 people gathered to learn, connect, play, and simply enjoy being outside for a few hours. We had 65 booths run by environmental organizations from across the southeast, and a separate area for children to paint rain barrels, ride ponies, and build birdhouses. It is essentially an environmental family reunion, with an emphasis on "family."
If you have never been, we invite you to sign up for our regular newsletter and get on the invite list. It is free to attend, and we would love it if you brought your family along too. Just be sure to sign up quickly when invitations go out, as space is limited (for the first time this year, we had to start a waiting list – we are humbled and overwhelmed by the interest everyone has taken in our annual celebration of Ray!). We haven't set the date for 2019 yet, but it will likely be a Sunday in October again. Stay tuned.
As proud as we are of RayDay, I also have to admit that it's a bit overwhelming. We try our best to be good hosts and visit with everyone, but it's simply not possible with so many guests. If you were there and I failed to say "hi," I apologize!
What matters most, however, are not the conversations that we have with our guests. It's the conversations our guests have among themselves. Those conversations are the largest part of why we host RayDay, and we can't know even a small fraction of what comes from them.
I do know that two years ago one guest got their job after meeting an organization at RayDay and following up on an open posting. Three years ago, a person was elected to the board of directors of one nonprofit after meeting them at RayDay and developing a relationship. I hope that more people have had important experiences because of our event.
I REALLY hope that some young people have come away from the event with the seeds of an environmental ethos planted in their hearts.
If you went to RayDay this year, please reach out and let us know if it was helpful to you or your organization. We want to know the impact we are having, and we can't know unless you tell us. To all of you, thank you for making our sixth RayDay another tremendous success!
Contact
Ray C. Anderson Foundation
More From Ray C. Anderson Foundation
Wednesday, May 5, 2021 - 9:30am
Wednesday, April 28, 2021 - 9:30am
Wednesday, April 21, 2021 - 9:30am