Closing the Digital Divide: How Comcast-NBCUniversal Does Community Impact
Closing the Digital Divide: How Comcast-NBCUniversal Does Community Impact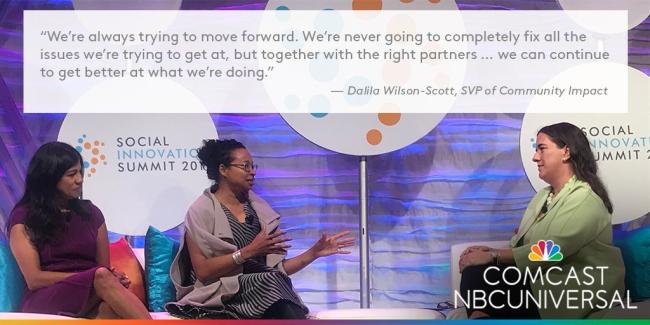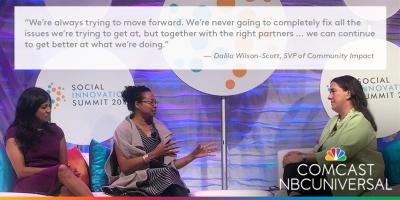 tweet me:
During @socinnovation's #SIS19, @dalila_says caught up with Ade Adeniji of @InsidePhilanthr to talk digital inclusion and @ComcastNBCUCI's overall philanthropic strategy http://bit.ly/2L4QBXh
Friday, June 21, 2019 - 11:15am
One way to measure inequality in the country is through the digital divide. A Pew Research Center article revealed that even as lower-income Americans make gains in tech adoption, the divide persists. Around 29 percent of adults with household incomes below $30,000 a year don't own a smartphone and more than four-in-ten don't have home broadband services (44 percent) or a traditional computer (46 percent). Meanwhile, higher-income Americans are also more likely to have multiple devices that enable them to go online. This divide also impacts children, including fostering a so-called the "homework gap"—the gap between school-aged children who have access to high-speed Internet at home and those who do not.
Comcast-NBCUniversal also has an interest in this space. At Social Innovation Summit 2019 recently held in L.A., I connected with Dalila Wilson-Scott, Senior Vice President of Community Impact for Comcast Corporation and President of the Comcast NBCUniversal Foundation, to find out more about its work in this area and its overall philanthropic strategy.
When I asked Wilson-Scott what her biggest hope was for the foundation in the coming years, she talks about pushing the status quo: "We're always trying to move forward. We're never going to completely fix all the issues we're trying to get at, but together with the right partners, making sure that we're up to date with the best ways to support our partners, we can continue to get better at what we're doing. But we can't do that alone. So always having open ears, listening to different ideas and partnering with communities, rather than just dropping a program into that community without listening. So that's something I think we strive to achieve."
More From Comcast Corporation
Monday, January 18, 2021 - 11:45am
Thursday, January 14, 2021 - 11:45am
Thursday, December 3, 2020 - 10:00am