CNH Industrial India Donates Dialysis Equipment to Local Hospital
CNH Industrial India Donates Dialysis Equipment to Local Hospital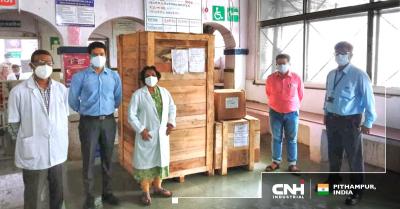 tweet me:
.@CNHIndustrial India donates medical equipment to district hospital near its @CASECE plant in Pithampur: https://bit.ly/374UGFV
Thursday, November 5, 2020 - 4:00pm
Pithampur, India, home to a CASE Construction Equipment plant, is an important site for CNH Industrial's operations in India. Constantly endeavoring to maintain close ties with the community, the Company learned that the local district hospital was in urgent need of life saving equipment. This particular hospital specializes in providing free treatment to the poor and needy that do not have access to private healthcare
Understanding the importance of this equipment for the hospital, CASE, donated a Blood Tubing Device to the Dhar District Hospital, Madhya Pradesh, as part of its contribution towards creating a safe and healthy society. In addition to this, the company also handed over a RO (Reverse Osmosis) System to the Chief Civil Surgeon & Resident Doctor of Dhar District Hospital. The equipment is currently deployed at the hospital and will help in providing free service to the people of Dhar. 
Dhar is home to a large tribal population. Agriculture and forestry are the main sources of income for the residents of this region. This donated equipment, that amounts to 1.2 million rupees, will help in fulfilling the medical needs of its citizens
More From CNH Industrial
Tuesday, January 19, 2021 - 4:00pm
Monday, January 18, 2021 - 4:00pm
Friday, January 15, 2021 - 4:00pm