Brightening Our Corner Newsletter - November 2018
Brightening Our Corner Newsletter - November 2018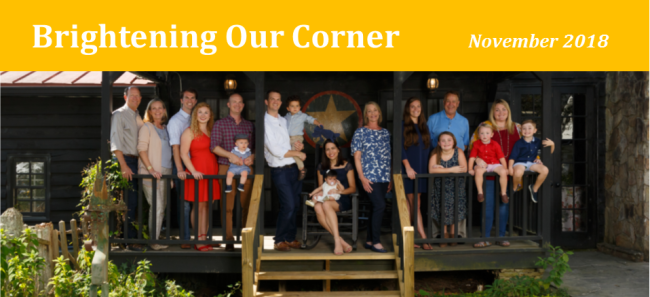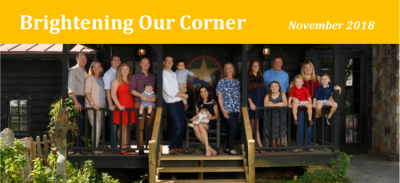 tweet me:
Check out the Ray C. Anderson Foundation's quarterly newsletter. @GT_ACSB @BiomimicryInst @TheRayHighway #RayDay2018 #NextGen http://bit.ly/2zdU1A0
Summary
Check out the Ray C. Anderson Foundation's November Newsletter.
Friday, November 16, 2018 - 10:00am
Ray C. Anderson Center for Sustainable Business Celebrates 5th Anniversary
This year, the Ray C. Anderson Center for Sustainable Business at Georgia Tech Scheller College of Business celebrates its fifth anniversary. It launched in 2013 as the Center for Business Strategies for Sustainability. In January 2015, after receiving a $5 million commitment from the Ray C. Anderson Foundation, the Center was renamed for Anderson, a sustainable business visionary and Georgia Tech alumnus (IE 1956, Honorary PhD 2011). Read the full story.
The 2018 Corporate Knights Better World MBA results are in, and the Scheller College of Business' ranking has moved up to the #2 MBA in the U.S., and #6 globally for sustainability.  Read the full story here.
Check out the new video for the Ray C. Anderson Center for Sustainable Business here.
Nature-inspired Reforestation Innovation Wins Ray of Hope Prize®
With deforestation contributing an estimated 15% of greenhouse gas emissions, countries, NGO's, and innovators are working to restore our planet's forests as quickly as possible to avoid catastrophic global warming. A Brazilian team of entrepreneurs has won the 2018 $100,000 Ray C. Anderson Foundation Ray of Hope Prize for Nucleário, an all-in-one reforestation solution that mimics elements of natural forest progression to reduce maintenance costs and improve seedling survival rates. The team was awarded the prize at the National Bioneers Conference on Saturday, October 20, 2018.
The Ray of Hope Prize is the top award in the Biomimicry Launchpad, an accelerator program run by the Biomimicry Institute that supports entrepreneurs working to bring early-stage biomimetic, or nature-inspired, climate change solutions to market.
Family of Interface Founder Carrying On His Environmental Mission
Reprinted from Maria Saporta's article in the Atlanta Business Chronicle
Ray C. Anderson, a corporate environmental evangelist, died more than seven years ago. But his legacy lives on – as strong as ever.
The two major vehicles for Anderson's continued influence over corporate America include the company he founded – Interface Inc. (Nasdaq: TILE); and his philanthropy – the Ray C. Anderson Foundation, a family endeavor that includes his two daughters and his five grandchildren.
During recent interviews with top executives and with his daughters and grandchildren, it's obvious everyone feels the responsibility to spread Anderson's messages of saving our planet before it's too late.
Sixth Annual RayDay is Great Success; Crowd Pleaser With Record Numbers
Many seem to agree that RayDay 2018 was the best one ever, as proven by the fact that the Foundation had to create a waitlist to attend.  With a record crowd of more than 2,000 attendees, great weather, and so many new things to see and do, many happy memories were made on October 14th at Serenbe.
This year, the Foundation kicked things off at RayDay with an electric vehicle caravan with more than 30 vehicles driving down together from Atlanta, thanks to The Ray.  Kids and adults alike were delighted by the addition of new carnival rides and attractions, and many also took advantage of the RayDay themed photo booth, attended the puppet show focused on water conservation, and toured Eldon the Bus (a tiny home on wheels).  Also, much to everyone's surprise, a small band of "once wild" Mustangs showed up to provide the pony rides.
In keeping with the Foundation's commitment to the environment, RayDay continued to be a Certfied Carbon Neutral Event, and a zero food waste event that diverted 142 pounds of food waste from the landfill.
Foundation trustees and staff were delighted to have hundreds of new faces in the crowd this year, recognizing that one of the most important parts of RayDay is the networking that occurs. 
John Lanier mentioned that important element of RayDay in his October 30th Ecocentricity blog.  
"What matters most, however, are not the conversations that we have with our guests. It's the conversations our guests have among themselves. Those conversations are the largest part of why we host RayDay, and we can't know even a small fraction of what comes from them." - John A. Lanier
Ray C. Anderson Foundation's NextGen Committee Awards $90,000 Grant to Second Nature
The NextGen Committee of the Ray C. Anderson Foundation has awarded a $90,000 grant to Second Nature to provide the tools necessary to allow universities to collaborate and pool their financial investments, to increase the number of large-scale renewable energy projects in the national grid, and to achieve climate neutrality on more U.S. campuses.
From EV Caravan to TEDx Talks, The Ray is Everywhere
Georgians showed off their love for EVs last month at Georgia's first electric vehicle caravan. Policy and decision makers, advocates, and enthusiasts alike came together to make a statement about just how easy it is to drive electric. More than two dozen EVs drove in a caravan from downtown Atlanta to Serenbe for the Ray C. Anderson Foundation's annual RayDay celebration. You can see more pictures from the day here! They are already thinking about next year, and dreaming big. If you want to make sure that you get an early invite to next year's EV Caravan, send a quick email to The Ray, (anna@theray.org) to get on the priority list!
The Ray is making waves in the TEDx world! Their founder and president, and Ray C. Anderson Trustee, Harriet Anderson Langford was a speaker at Point University's TEDx event. Her talk followed a viewing of Ray Anderson's 2009 TED Talk and bridged the gap between her dad's work and The Ray. We're all climbing Mount Sustainability and no matter the sector you work in, Ray's legacy has something to offer you in your sustainability journey. Watch it here.
Ecocentricity Blog: There is no "Away"
The scene begins. Luke, Han and Chewy hop off the elevator at the Death Star's detention level and exchange pleasantries with the Imperial officer. Chewy smacks a guy and blaster fire erupts. The 1970s special effects dazzle us all. The bad guys go down.
Then Luke rescues Leia from her cell. She immediately insults his height. Luke doesn't take it personally. More bad guys show up and we are dazzled again. Leia takes Luke's blaster and blows open the cover on the garbage chute. She jumps in, then Chewy, Luke and Han. Oddly, the bad guys don't follow them…. Whatever you say George Lucas!
Splash. Han and Leia have their first of many spats. Chewy helplessly bangs on the door. Then some octopus-like thing that apparently lives on Death Star garbage grabs Luke and tries to drown him. Luckily, it lets him go right as the walls start closing in to compress the trash. Unluckily, the walls start closing in to compress the trash.  Read more.
Contact
Ray C. Anderson Foundation
More From Ray C. Anderson Foundation
Wednesday, April 21, 2021 - 9:30am
Wednesday, April 14, 2021 - 9:30am
Wednesday, April 7, 2021 - 9:30am