Brightening Our Corner Newsletter - May 2020
Brightening Our Corner Newsletter - May 2020
Ray C. Anderson Foundation's Quarterly Newsletter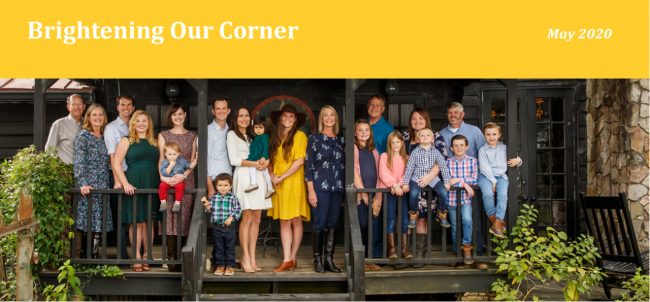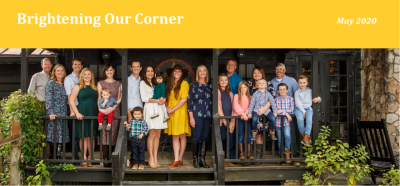 Summary
Brightening Our Corner is the Ray C. Anderson Foundation's quarterly newsletter.  It features positive stories from the Foundation and its key funding initiatives.
Thursday, May 14, 2020 - 9:30am
Announcing the 2020 Ray of Hope Prize Finalists
The Biomimicry Institute and Ray C. Anderson Foundation are proud to announce the nine finalist teams competing for the 2020 Ray of Hope Prize. These cutting-edge startups are advancing nature-inspired solutions that address a wide range of problems. From eliminating toxic paints and dyes, to providing a new, regenerative approach to marine infrastructure, these game-changing companies are providing a ray of hope in the world today. These finalists were selected from among 190 applications, spanning 42 countries. Seven of the nine finalists are women-led companies, representing the diverse change that is being seen across the technology industry. Stay tuned for video highlights from each team, starting in August on the Foundation's website and social media platforms, and then be on the lookout in the fall when the 2020 Ray of Hope Prize winner is announced publicly. Click here to read detailed descriptions for each of the teams.
Apply for the $100,000 NextGen Grant by May 15th
The NextGen Committee of the Ray C. Anderson Foundation has issued a call for proposals for one $100,000 grant to fund work in the 2021 calendar year for new or existing programs that will help to reduce global warming, whether through direct carbon avoidance, climate communication, climate education, industry engagement, or otherwise.
Ray's five grandchildren, along with their spouses, comprise the NextGen Committee of the Foundation, which makes recommendations to the Board of Trustees for worthwhile grants and initiatives.
In 2019, the NextGen committee awarded a $100,000 grant to The Inga Foundation for their "Land for Life" program, and in 2018, the NextGen Committee awarded a $90,000 grant to Second Nature.
Grants are limited to 501(c)(3) charities in the United States.  Those interested in applying for the grant should visit the grant web page to review the proposal guidelines and submit their proposal.
All grant inquiries should be directed to: nextgengrants@raycandersonfoundation.org
No phone calls.
Updates from the Ray C. Anderson Center for Sustainable Business
International Recognition
In the Positive Impact Rating (PIR), Georgia Tech Scheller College of Business is identified as one of the world's top "transforming" schools. The World Economic Forum in Davos, Switzerland, announced the PIR results on January 22, 2020. The new rating, conducted by students and for students, assesses business schools on the basis of their positive impact. Read the full story.

Spotlight on Local Impact
Brandi Thompson, communications officer at the Ray C. Anderson Center for Sustainable Business talks to Marybeth Bucklen, a 2018-19 Scheller College of Business Graduate Sustainability Fellow. Marybeth, who was enrolled in the Evening MBA Program, graduated in December 2019. She has worked for the City of Brookhaven since 2016. She spearheaded the creation of a strategic sustainability framework for the City of Brookhaven. Read the interview.
Spotlight on Research
The Center promoted thought leadership of Center-affiliated faculty by publishing the following research brief for practitioners in their series, Sustainable Business Insights: "How Do Social Liberalization Policies Impact Innovation?": (Faculty: Laurina Zhang) This study highlights the significant relationship between social policies and innovation. When social liberalization policies are implemented, inventors collaborate with more diverse partners. This, in turn, leads to the production of a greater number of novel and impactful innovations. Read the study.
Ecocentricity Blog: Animal Algebra
This is the third year that we have calculated our carbon footprint and purchased corresponding offsets to be carbon neutral. I'm proud of that, and I would encourage any readers out there to consider doing the same.

Chantel and I miss going to a lot of places. The homes of our family and friends are in a category of their own obviously, but we miss hanging in our local coffee shops and restaurants. We miss letting our kids explore the playgrounds near our house. My shaggy head is missing the heck out of my barbershop. We even miss Target, since our kids genuinely enjoyed the ritual of navigating the aisles as we would stock up for the week.
The Atlanta Zoo is near the top of the list though. We've been members for a few years now, and it's one of our kids' favorite places to go. Invariably, as we would walk through the entrance, my son would excitedly yell "Hi flamingos!" That was always the first of many enthusiastic greetings. He would save his loudest hello for the elephants, while my daughter's squealiest squeal would come out for the giraffes. With the amazing weather that we've had this spring, I am sorry that my kids have missed out on the prime time to visit their favorite animals.
So it's with those animals in mind that I want to measure our foundation's 2019 carbon footprint. A ridiculous premise on my part? Sure, but elephants and giraffes are a lot cuter than metric tons of carbon dioxide, so go with it.
Learn Something New on The Ray
If you aren't already following The Ray on social media, now is the time to hop on board!
Their new recurring series #LearnSomethingNew is a great opportunity to see transportation innovation in a new light.
They're showcasing industry leaders through live Q&As, sharing new data, and discussing how the tools employed on The Ray can be applied across the nation to fundamentally rethink transportation to a process that is zero carbon, zero waste, and zero death.
You can find them @therayhighway on Facebook, LinkedIn, Twitter, and Instagram. Check out some of our recent favorite posts!
Save the Date for RayDay 2020
More than 2,200 people attended RayDay 2019, our annual zero food waste, certified climate neutral, family-friendly event.
We have lots of great things planned for 2020, so be sure to mark your calendar for Sunday, October 18th, 3-6 p.m. at Serenbe.
We are also incredibly excited about working with The Ray to grow this year's EV Caravan.  Watch the RayDay page on our website, and watch your email for the latest updates and announcements.
Mid-Course Correction Revisited
Together with his family, John A. Lanier is keeping the voice and vision of Ray C. Anderson alive, and documenting the evolution of the green business world in the tradition of his grandfather, a masterful storyteller.  Click here to learn more, and buy your copy today.
Upcoming Events
Southface Greenprints Conference
Circularity 20 - 8/25-8/27/2020
RayDay  - 10/18/2020
Contact
Ray C. Anderson Foundation