Arrow Electronics' Corporate Social Responsibility Program Supported Over 8.3 Million People in 62 Countries on Six Continents
Arrow Electronics' Corporate Social Responsibility Program Supported Over 8.3 Million People in 62 Countries on Six Continents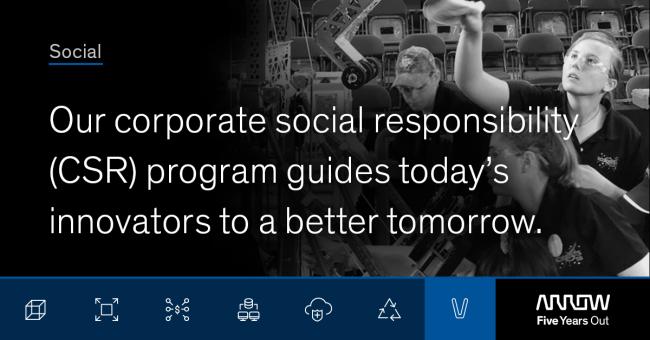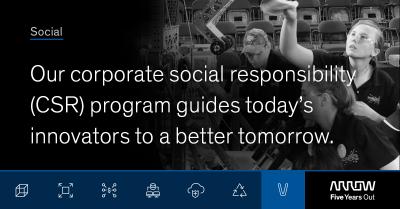 tweet me:
In 2017, @ArrowGlobal supported over 8.3 million people around the world via its #CSR program: http://bit.ly/2Kq604o #FiveYearsOut
Wednesday, June 27, 2018 - 11:50am
Arrow Electronics' corporate social responsibility (CSR) program guides today's innovators to a better tomorrow. The company helps transform ideas into real and influential achievements that support people and the communities in which Arrow works. In 2017, Arrow and CSR partner organizations:
Supported over 8.3 million people in 62 countries on six continents.
Developed an e-textiles curriculum for 10,000 students across the U.S.
Impacted 185 charitable organizations in North America through employee engagement.
Launched a second Arrow DigiTruck in Kenya to support thousands.
Reached the milestone of 600,000 refurbished IT assets donated.
The company's view of CSR goes beyond traditional corporate philanthropy and community relations. It's a business strategy creating competitive advantages that strengthen Arrow's reputation as an industry leader.
Tapping technology to benefit humanity, all of Arrow's work reinforces Five Years Out thinking –  the tangible future of new technologies, new materials, new ideas and new electronics that help customers, partners and employees merge what's possible with what's practical.
To learn more about Arrow's CSR program and to download the 2017 CSR & Sustainability Report, please visit: https://www.fiveyearsout.com/corporate/corporate-social-responsibility
About Arrow Electronics
Arrow Electronics guides innovation forward for over 150,000 of the world's leading manufacturers of technology used in homes, business and daily life. With 2017 sales of $26.6 billion, Arrow aggregates electronics and enterprise computing solutions for customers and suppliers in industrial and commercial markets. The company maintains a network of more than 345 locations serving over 80 countries. Learn more at FiveYearsOut.com.
More From Arrow Electronics
Tuesday, February 9, 2021 - 12:35pm
Monday, February 1, 2021 - 2:20pm
Tuesday, January 26, 2021 - 2:20pm