AEG Facilities' Pechanga Arena San Diego and Goldenvoice Staff Volunteer with 'I Love A Clean San Diego' to Reduce Environmental Impact During Fourth of July Weekend
AEG Facilities' Pechanga Arena San Diego and Goldenvoice Staff Volunteer with 'I Love A Clean San Diego' to Reduce Environmental Impact During Fourth of July Weekend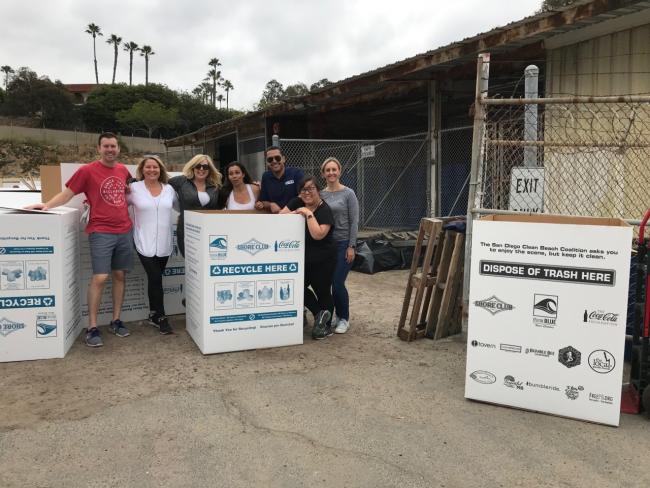 tweet me:
Keeping our oceans #plasticfree, @PechangaArenaSD & @goldenvoice teamed up with @iloveacleansd & @CityofSanDiego Parks & Rec to assemble recycle bins to be used at San Diego beaches this summer: http://bit.ly/309i9il
Wednesday, July 3, 2019 - 9:00am
In preparation for the Fourth of July weekend, AEG Facilities' Pechanga Arena San Diego and Goldenvoice staff teamed up with 'I Love A Clean San Diego' (ILACSD), an environmental nonprofit organization, to assemble nearly 90 temporary trash cans and recycling bins to be placed along San Diego beaches.
The AEG volunteers joined ILACSD and City of San Diego Parks & Rec staff at the Clean Beach Coalition Bin Assembly Facility on Wednesday, June 26 to assemble the trash cans and recycling bins.
"These volunteers served as a major line of defense for preventing litter and debris from washing into nearby waterways and ultimately out into the ocean," said Natalia King, Recycling Programs Manager, I Love A Clean San Diego.
"Without the assistance of volunteers like these Pechanga Arena staff, who set a positive example in San Diego communities, we would not be able to collect all the debris that we will during this busy holiday weekend."
More From AEG
Tuesday, January 14, 2020 - 10:00am
Friday, January 3, 2020 - 8:00am
Tuesday, December 24, 2019 - 9:00am