S-Network Global Indexes
Corporate Social Responsibility (CSR), Sustainability and Cause News & Media
S-Network Global Indexes
Flexible Media Releases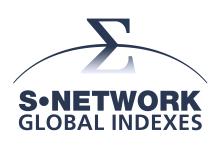 S-Network Global Indexes is dedicated to developing indexes that define, isolate and measure the performance of discrete segments of the new global economy. Adhering to the soundest financial standards, S-Network indexes are known for their clarity, transparency and impartiality and are used by major financial institutions around the world. 

Our focus extends to helping investors and analysts apply environmental, social, and governance (ESG) to their investment decisions. We have partnered with Thomson Reuters for the creation and maintenance of the Thomson Reuters Corporate Responsibility Ratings and Indices. 

S-Network currently publishes and calculates 126 indexes. Many S-Network indexes are compiled with the assistance and support of partner organizations, which maintain high levels of expertise in specific sectors or regions. 

S-Network indexes have been licensed to a number of major financial intermediaries in the US and Europe and serve as the basis for ETFs, Structured Products, Mutual Funds and UITs, S-Network indexes are also used by major institutional investors for benchmarking and passive asset management purposes.