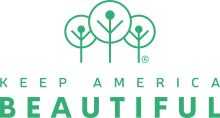 Keep America Beautiful, the nation's leading community improvement nonprofit organization, inspires and educates people to take action every day to improve and beautify their community environment.
Established in 1953, we strive to End Littering, Improve Recycling, and Beautify America's Communities. We believe everyone has a right to live in a clean, green, and beautiful community, and shares a responsibility to contribute to that vision. 
Behavior change – steeped in education, research and behavioral science – is the cornerstone of Keep America Beautiful. We empower generations of community stewards with volunteer programs, hands-on experiences, curricula, practical advice, and other resources to deliver measurable environmental, economic and social benefits.
The organization is driven by more than 650 state and local affiliates, millions of volunteers, and the support of corporate partners, social and civic service organizations, academia, municipalities, and government officials. Join us on Facebook, Instagram, Twitter, and YouTube. Donate and take action at kab.org.
Videos