Women of FOX Sports Hosts Tennis Icon Billie Jean King and Cast of 'Battle of the Sexes' for Panel on Gender Equality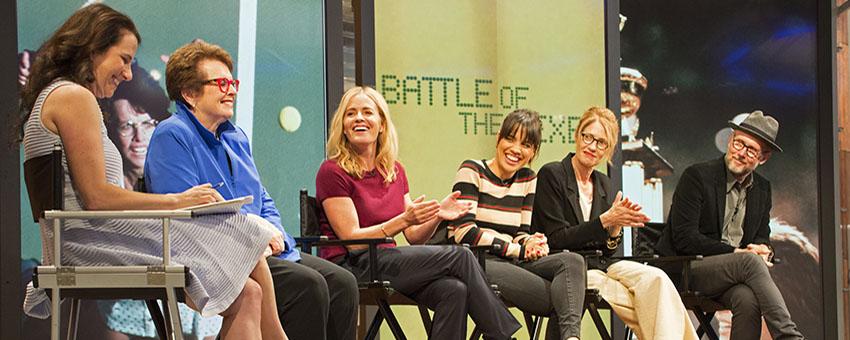 21st Century Fox Social Impact
Tennis icon Billie Jean King, along with members of the cast and creative team behind Fox Searchlight's new film Battle of the Sexes, met on the Fox Lot on September 15 for a panel discussion about gender equality and inclusion in professional sports and beyond. The film tells the story of King's legendary 1973 tennis match against former men's champion Bobby Riggs, a televised event that propelled women's tennis onto the world stage. Women of FOX Sports organized the panel, which was moderated by Fox Entertainment Group Deputy General Counsel Jill Ratner and featured Battle of the Sexes directors Valerie Faris and Jonathan Dayton, and cast members Elisabeth Shue and Natalie Morales.
"This match was about changing the hearts and minds of people to match the legislation of Title IX," King said, referring to the landmark 1972 law that outlawed sexual discrimination and represented a major step forward in the women's rights movement. "That's why I started the Women's Sports Foundation the next year: to protect Title IX and protect girls and women. And I just want to thank Fox for our partnership, because it's so vital."
21st Century Fox businesses have contributed more than one million dollars to the Women's Sports Foundation over the years, and to mark the release of the film, the company has coordinated directly with WSF on several new activations, including a free DVD and curriculum guide tied to the film's themes, available to educators across the country, and a special edition of WSF's Travel and Training Fund for women who have shown leadership in advocating for, or otherwise furthering, greater inclusivity in their sport.
"Bringing Billie Jean King, along with the directors and actresses from FOX Searchlight's new film Battle of the Sexes to FOX Sports, touched on two of Women of FOX Sports' pillars—to learn and to inspire," said Raquel Braun, Sr. Director of Business and Legal Affairs for FOX Sports, who helped organize the event.  "Many women learned about Billie Jean's story for the first time, directly from the legend herself, and the more 300 viewers of the event left inspired by Billie Jean's candid advice and the messages of leadership, advocacy, and collaboration from Elisabeth, Natalie, Valerie, and Jonathan."
During the same week as the panel event, 21CF's public affairs team in Washington, D.C. hosted an advanced screening along with the Washington Kastles tennis team and the Women's Sports Foundation. Speakers included West Virginia Senator Shelley Moore Capito, who spoke about King's role in breaking down cultural barriers for women around the world, as well as Washington Kastles founder and owner Mark Fin and WSF Chief Advocacy Officer Deborah Larkin.
In addition, 21CF has committed to donate 79 cents from every ticket sale during the film's opening weekend to the Women's Sports Foundation, representing the 79 cents that women in the United States earn on average for every dollar paid to men. The donation reflects the two organizations' commitments to ensuring equality in the workplace, and continuing to expand opportunities for women in sports of all ages.
"Girls are taught not to ask for what they need and want; I'm telling you: 'Ask for what you need and want,'" King said during the Women of FOX Sports panel. "Every single personal is an influencer. We think only certain people are influencers; no, you are. If you get in it every day, you can change things."
Battle of the Sexes opens in theaters in the U.S. on Friday, September 22, nearly 44 years to the day since the match took place on September 20, 1973.