Whole Planet Foundation Launches Annual Poverty Is Unnecessary Project
Whole Planet Foundation Launches Annual Poverty Is Unnecessary Project
Partners commit $275,000 to alleviate global poverty through microcredit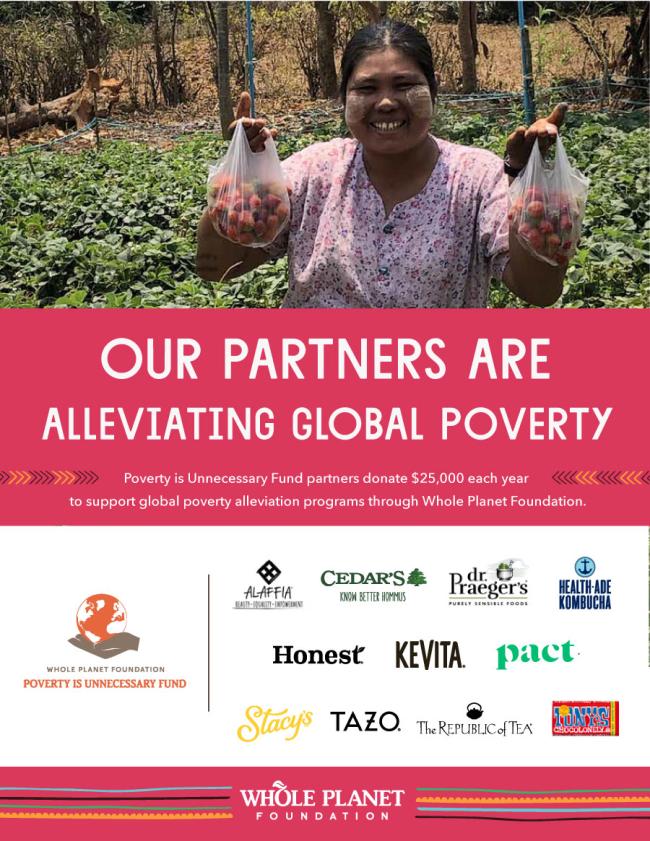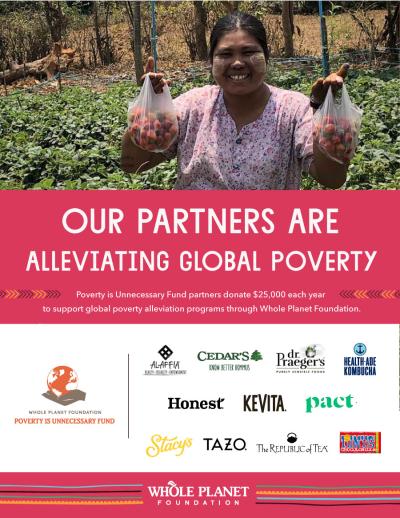 Tuesday, October 15, 2019 - 10:35am
This October, Whole Planet Foundation celebrates its global impact on poverty and the partners who further its mission. In 2005, Whole Foods Market launched Whole Planet Foundation, its non-profit dedicated to global poverty alleviation in communities around the world where the company sources products.  The Poverty is Unnecessary Project spotlights Poverty is Unnecessary Fund partners, who collectively are committed to donating $275,000 to alleviate poverty through microloans, and culminates in the foundation's signature event of the year on October 25, known as Poverty is Unnecessary Day.
Since inception, Whole Planet Foundation has funded more than $79 million to create 3.7 million microloans to entrepreneurs living below the poverty line. Whole Planet Foundation works in 17 U.S. cities — including Austin, where the foundation is headquartered —and in 76 other countries around the world. Microloans are small loans  — with no formal contract or collateral — provided to microentrepreneurs for the chance to create or expand a home-based business and generate income through their own hard work and ingenuity. Through microfinance partners, the foundation has funded 19.4 million opportunities for entrepreneurs like Tin Ohn Khaing to lift themselves and their families out of poverty. Learn more about Tin Ohn Khaing and her loan from microfinance partner BRAC Myanmar here.
Philip Sansone, president and executive director for Whole Planet Foundation shares, "We are so proud to partner with the suppliers in our Poverty is Unnecessary Fund who collectively will help provide more than 8,300 opportunities for entrepreneurs and their families to have a chance to lift themselves out of poverty through their own hard work."
Poverty is Unnecessary Day is a reason for millions around the world to celebrate an opportunity for a better life. On this day Whole Planet Foundation also celebrates its supplier partners, corporate partners, donors, volunteers, advocates and sponsors.  This year's generous Poverty is Unnecessary Fund members are Alaffia, Cedar's Mediterranean Foods, Dr. Praeger's Purely Sensible Foods, Health-Ade Kombucha, Honest Tea, KeVita, PACT, Stacy's, TAZO, The Republic of Tea and Tony's Chocolonely.
The 14th annual Poverty is Unnecessary Day will be celebrated with a Benefit & Auction at Fair Market in Austin, Texas. Whole Planet Foundation invites the public to join for an evening of global cuisine and drinks, entertainment, and shopping in a local and global marketplace of 150 auction items.  Attendees will have the opportunity to bid on travel, including Seven Nights of Paradise in Costa Rica, and curated items with Swing City Auction Company auctioneer Phillip Pierceall.  All proceeds from the event will fund microcredit loans for impoverished entrepreneurs around the world, thanks to the presenting sponsor The Coca Cola Company's natural brands Hubert's Lemonade, Topo Chico, Zico Coconut Water, Honest Tea, Blue Sky, Hansen's, Simply Orange Juice, Odwalla, smartwater and vitaminwater.  Tickets are $50 and can be purchased online. Those who cannot attend but want to join the project can visit wholeplanetfoundation.org to make a one-time or monthly contribution.
Please join Whole Planet Foundation at Fair Market in Austin, Texas on October 25 to party with a purpose at its Annual Benefit & Auction, or learn more about how we are coming together to alleviate global poverty through microcredit by visiting wholeplanetfoundation.org.