September 12th Webinar: Most Effective Way for Businesses to Support Hurricane Harvey and Irma Recovery
Unleashing the power of long-term support through employee giving & matching gifts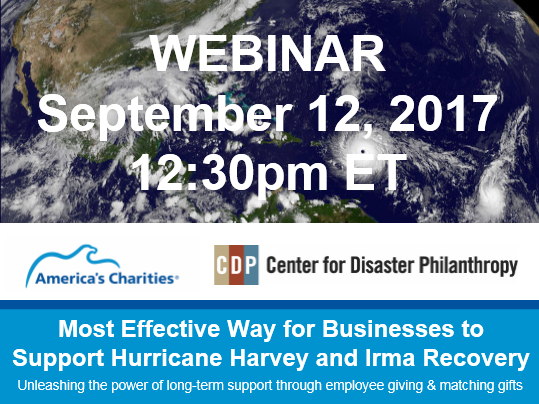 About 70 to 80 percent of money donated in the wake of a disaster goes to immediate relief efforts. While those efforts are important, ensuring long-term support is crucial to effectively helping affected communities rebuild and fully recover. 
How can businesses most effectively ensure long-term support for those affected by major disasters like Hurricane Harvey and Irma?
Join Jim Starr, President and CEO of America's Charities, and Bob Ottenhoff, President and CEO of the Center for Disaster Philanthropy, for a 20-minute webinar to learn why supporting long-term disaster recovery is so important, and how businesses have a unique opportunity to step up their support through the power of employee giving, matching gifts, and the "America's Charities Disaster Recovery Fund presented by Center for Disaster Philanthropy."