Schneider Electric | WHITE PAPER: Almost 25% of Global GHG Emissions Will Soon Be Regulated by Government Carbon Pricing
Here is what you need to know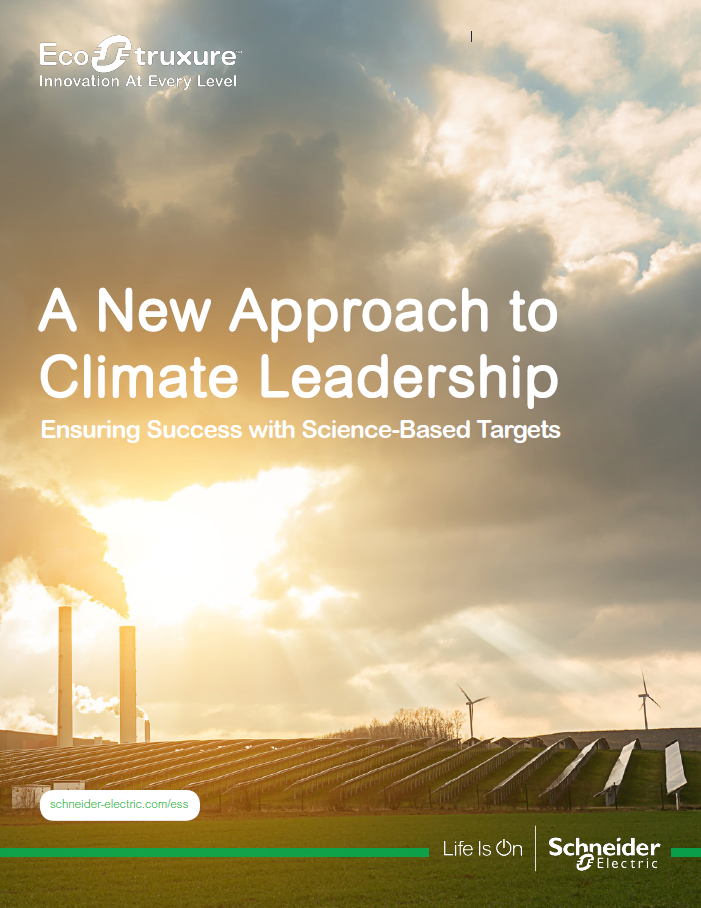 What are SBTs? Put simply, Science-based Targets specifies how much and how quickly companies need to reduce GHG emissions in order to avoid a 2°C global temperature increase. SBTs provide a clear pathway for a company to achieve future business growth while remaining below the 2°C limit. More than 300 companies have committed to setting SBTs under the Science Based Targets Initiative (SBTi) and over 70 companies have approved SBTs.
High ROI
A CDP study of 500 S&P industry leaders found that organizations actively managing and planning for climate change secure an 18 percent higher return on equity or investment versus non-committed peers.
As companies with approved SBTs are required to report their emissions annually, they benefit from greater transparency and the enhanced reputation it brings. SBTs also enable companies to prepare for future climate regulation and policy so they better respond to changes in laws or jurisdictions. Almost 25% of global GHG emissions will soon be regulated by government carbon pricing
Schneider Electric has signed Science-Based Targets (SBTs) initiative in 2016:
On scope 1 and 2, we have already set the targets to reduce our CO2 emission by 53% in absolute terms by 2050 compared to 2015
But the company also support its customer on it. Recently, Schneider Electric undertook a recent project for a global cosmetics packaging manufacturer to help inform its SBT decision-making process.
Want to learn more? 
Download our new white paper to learn how to start your SBT's Journey in Six Key Steps, risks to consider and how to optimize your strategy.