Navigating the Transition, Advocating for Others: How LGBTQ+ Pride Lives On at Booz Allen
Navigating the Transition, Advocating for Others: How LGBTQ+ Pride Lives On at Booz Allen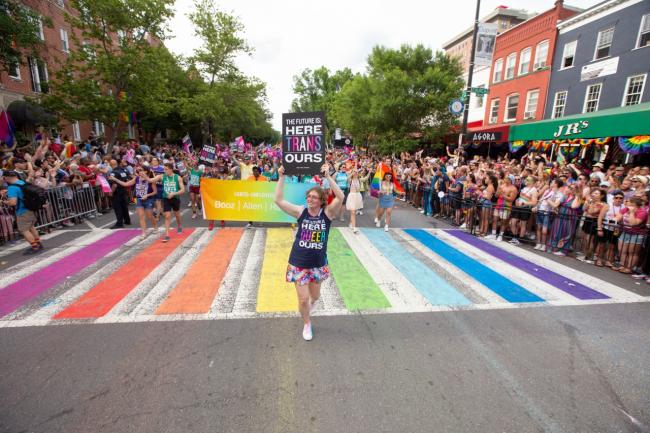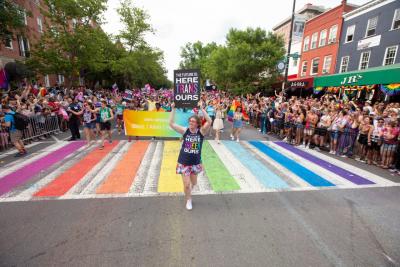 Wednesday, June 24, 2020 - 8:00am
"Pride Lives On is about the fact that as a community, we keep finding ways to come together, even when things look bleak and we're kept apart. It's about being sure that we be ourselves, and it's about remembering that our existence continues to be a radical act, one that can and will change the world."
From accessing healthcare to introducing a new name and pronouns at work, transgender individuals can experience many challenges on the journey to their authentic selves. A strong support system can make those challenges easier. 
Here in celebration of Pride Month—and the U.S. Supreme Court's historic decision to expand anti-bias laws to gay, lesbian, and transgender workers—Intelligence Analyst Melody Stachour talks about navigating her transition, building a community for others, and what Pride means this year.
"Coming out on the job was a non-issue"
When Analyst and Navy Reservist Melody Stachour mobilized for active duty in 2016, her career manager and team at Booz Allen delivered full support: ensuring she'd have a position to come back to and easing the return to civilian life. 
 
When Stachour began her transition, her experience with Booz Allen was similarly positive. An HR business partner helped her secure healthcare, and a full team assisted with other details.
"The biggest question that day was, 'How do we handle this with the client?'" Stachour recalled. "My senior associate said, 'Don't worry, I'll take care of this.' Coming out on the job was a non-issue."  
The vice president in charge of her contract and inclusion representatives arrived onsite to explain Booz Allen's corporate polices and expectations. They also honored Stachour's request to brief her client and deliver her coming-out speech.
Paying it forward
Stachour credits Booz Allen's  LGTBQ+ policies and strong relationships with her job leader and career manager for helping her feel comfortable through her transition. 
Today, she volunteers with Capital Trans Pride, is the Navy Chapter Leader with SPART*A (a support and advocacy group for trans servicemembers), and is active in Booz Allen's GLOBE+ Business Resource Group (BRG), which for 21 years has advanced the professional development, growth, and visibility of Booz Allen's LGBTQ+ and ally employees.
 
On Capitol Hill, in the media, and in the LGBTQ+ community, Stachour advocates for transgender rights, including the right to serve in the military and dress as one's identified gender.  She also provides mentorship and guidance to sailors around the world.
What Pride means this year
Stachour was "amazed at the feels I got" upon hearing the Supreme Court decision on Title VII.  "This new landmark decision will ripple through all our realities in the years to come," she said. 
Concurrently, the Black Lives Matter protests reminded her of the intersectional nature of the struggle against inequity—and the need to keep moving forward.  
"Remembering and honoring people like Marsha P. Johnson, a Black Trans woman who launched the Stonewall Riots, is partly about who we are as an LGBTQ+ community but also about her legacy in fighting for equity for Black, Indigenous, and People of Color (BIPOC)," Stachour said.
"No single gain for equality occurs in a vacuum, and no victory we win is the end of the fight," she said. "While our gains have been worth celebrating, the work goes on, and we need the help of accomplices: people who are actively advocating on our behalf even though our challenges are not theirs."
Read more about diversity and inclusion and the GLOBE+ BRG at Booz Allen.