Navigating the Digital Wilderness: Booz Allen San Diego Helps 55 Girl Scouts Earn Cyber Badges
Navigating the Digital Wilderness: Booz Allen San Diego Helps 55 Girl Scouts Earn Cyber Badges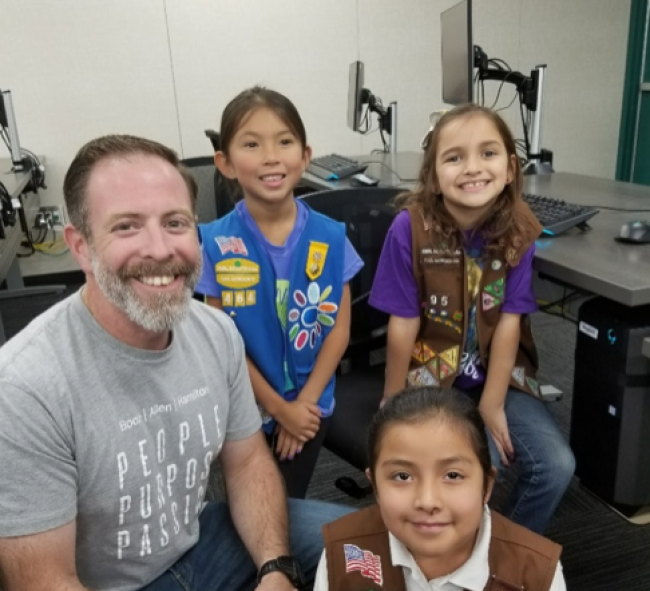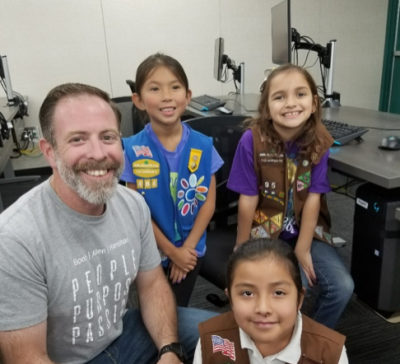 Monday, December 16, 2019 - 8:30am
For over a century, the Girl Scouts have helped girls develop the skills they need to explore new opportunities, keep themselves safe, and thrive. In today's world of hacking, data breaches, and cyberbullying, Booz Allen's San Diego office partnered with synED/Cyber-Guild to engage 55 Girl Scouts in cyber safety activities, helping them earn their badges in cybersecurity.
Building skills while having fun
Organized by synED.org/Cyber-Guild and sponsored by Booz Allen, the Girl Scout Jr. Cyber Camp at Moreno Valley College included a full day of games, challenges, and activities. Employees and volunteers (including two Booz Allen San Diego cyber experts) demonstrated secure cyber practices, from making strong passwords to keeping personal information safe when using the internet.
"I had a blast leading several activities and interacting with the Girl Scouts," said Daniel Torres, lead technologist at Booz Allen. "I was really impressed by their awareness under certain cyber situations."
Community partnerships cultivate the next generation of tech talent
The Girl Scout Jr. Cyber Camp is just one example of the wide range of activities Booz Allen supports in order to expose youth to STEM skills and career paths. Others include:
The Summer Games Challenge, which engages college students in developing and presenting solutions to pressing global challenges
An annual Data Science Bowl where participants worldwide target lung cancer, heart disease, ocean health, and beyond 
A partnership with Capital CoLAB in the Washington, D.C., region that offers credentialing programs for non-STEM professionals
In the words of Saul Betancourt, chief technologist at Booz Allen: "Volunteering makes positive changes in the local community, and I am proud to be part of the Booz Allen Hamilton cyber security professionals."
Learn more about women in cyber and careers at Booz Allen.