Keep America Beautiful Hosts 2018 National Conference in Dallas; Kicks Off 65th Anniversary Celebration With Focus on Future
Iconic Community Improvement Nonprofit Gathers Hundreds of State and Local Community Leaders for Week of Education, Inspiration and Motivation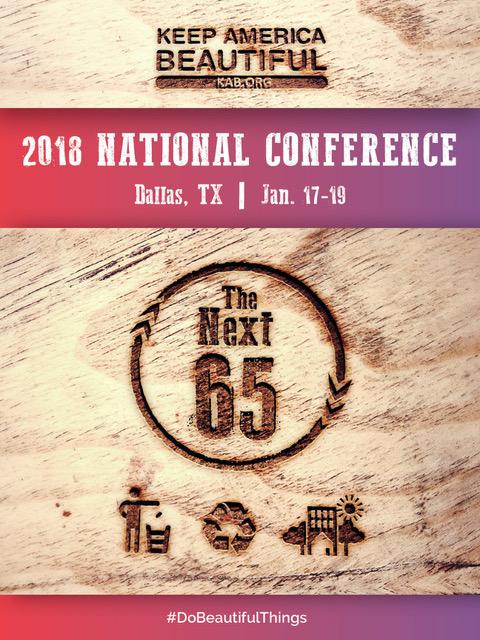 Keep America Beautiful 2018 National Conference
DALLAS, January 17, 2018 /3BL Media/ – Keep America Beautiful, the nation's iconic community improvement nonprofit organization celebrating its 65th anniversary in 2018, is featuring Doug McKenzie-Mohr, Ph.D., internationally-recognized author and founder of Community-based Social Marketing, as its keynote speaker at the 2018 Keep America Beautiful National Conference, taking place Jan. 17-19 at The Fairmont Dallas Hotel in Dallas, Texas.
The Keep America Beautiful National Conference, its premier educational and networking event, brings together nearly 400 leaders from Keep America Beautiful's national network of affiliates, business leaders, policymakers and other experts who share innovative ideas and proven strategies to help End Littering, Improve Recycling, and Beautify America's Communities.
"As we enter our 65th year, Keep America Beautiful has its eyes on a future in which everyone deserves to live in a clean, green and beautiful community, while sharing a responsibility to contribute to that vision," said Helen Lowman, president and CEO of Keep America Beautiful. "Today, we turn our attention to 'The Next 65' for our organization – empowered and inspired by our state and community-based affiliates, millions of volunteers as well as our corporate supporters and other partner organizations. The future of Keep America Beautiful lies in our ability to continually educate and inspire a new generation of community stewards."
McKenzie-Mohr, who for three decades has been working to incorporate scientific knowledge about behavior change into the design and delivery of community programs, will identify barriers to behavior change and discuss developing and evaluating community-based social marketing initiatives to overcome these barriers. His keynote will be followed by a session with California State University of San Marcos Psychology Professor Wesley Schultz, Ph.D., a Keep America Beautiful board member, focusing on community-based behavior change case studies.
Additional plenary sessions will feature nationally-recognized consultant Nehrwr Abdul-Wahid, an expert at multicultural competence and work team effectiveness, who will guide attendees into a meaningful discussion of the importance organizations play in recruiting volunteers in a more diverse and inclusive environment, as well as Wendy Spencer, former CEO of the Corporation for National and Community Service and presently the President of Leadership Florida, who will address the health benefits of youth, family and generational engagement.
Another conference highlight is the annual "Build and Grow" affiliate volunteer project, sponsored by Lowe's, on Thursday, Jan. 18. Working with local affiliate Keep Dallas Beautiful (KDB), and with the assistance of Lowe's Heroes volunteers, conference attendees will build picnic tables and benches that will be delivered to enhance outdoor living spaces at Dallas-area fire stations.
"Keep Dallas Beautiful envisioned this project as a way to bring community support for their first responders and to show their community's appreciation for their sacrifices," said Lowman. "Working together with KDB, we determined the best way for us to leave a lasting legacy from our time in Dallas is to provide fire fighters with a welcoming area for their colleagues or community members to meet."
Additional conference session highlights include:
Disaster Recovery & Resiliency – How do communities become more resilient? This session will provide insight into how to shorten recovery periods after natural disasters and other emergencies. Speakers: Martha Brown, Keep Rowlett Beautiful, Texas; Grady McGahan of RETREET; and Matt Lyttle, U.S. Department of Homeland Security / FEMA.
 
Techniques and Tools to Boost Your Recycling Program – Experts in the recycling space provide proven resources, insights and data to improve recycling efforts. Speakers: Kathy Morris, Director, Waste Commission of Scott County and Keep Scott County Beautiful, Iowa; Jason Hale, Vice President Communications, The Recycling Partnership; and Bridget Croke, Vice President, External Affairs, Closed Loop Partners.
 
Beautifying Communities – A demonstration of the impact of a Keep America Beautiful affiliate's work to contribute to a cleaner, greener and more beautiful city. Transformation stories and information about the Texas A&M University – KAB Tree Trails program partnership to measure trees and engage youth will be shared. Speakers: Joe Jarzen, Keep Indianapolis Beautiful; Stuart Hodnette and Courtney Hornsby, Ouachita Green and Keep Ouachita Parish Beautiful, Louisiana; and John Noyette, Texas Forest Service.
For additional details about the National Conference sessions and speakers, click here.
The 2018 National Conference also highlights the award-winning work of Keep America Beautiful affiliates, partner organizations, community leaders and volunteers from across the U.S. at the annual Keep America Beautiful National Awards Ceremony, which will take place on Thursday, Jan. 18, during the conference.
The 2018 Keep America Beautiful National Conference is made possible through the support of some of America's leading companies, including: Leadership Sponsors – Altria, Lowe's, Santa Fe Natural Tobacco Company, SC Johnson, A Family Company and Wrigley Company Foundation; Stewardship Sponsors – Anheuser-Busch, Carton Council, Pratt Industries – Recycling Division and Steel Recycling Institute; Strategic Sponsors – Dr Pepper Snapple Group and Owens-Illinois, Inc.; Supporting Sponsors – Dipjar, insurance Auto Auctions, Inc. – Donation Division and Irio. Scholarships are provided by Altria, Dr Pepper Snapple Group, Southwest Airlines and Wrigley Company Foundation.
About Keep America Beautiful
Keep America Beautiful, the nation's iconic community improvement nonprofit organization, inspires and educates people to take action every day to improve and beautify their community environment. Celebrating its 65th Anniversary in 2018, Keep America Beautiful strives to End Littering, Improve Recycling and Beautify America's Communities. We believe everyone has a right to live in a clean, green and beautiful community, and shares a responsibility to contribute to that vision.
Behavior change – steeped in education, research and behavioral science – is the cornerstone of Keep America Beautiful. We empower generations of community and environmental stewards with volunteer programs, hands-on experiences, educational curricula, practical advice and other resources. The organization is driven by the work and passion of more than 600 Keep America Beautiful affiliates, millions of volunteers, and the collaborative support of corporate partners, social and civic service organizations, academia, municipalities, elected officials, and individuals. Join us on Facebook, Instagram, Twitter and YouTube. Donate and take action at kab.org.
###