The International WELL Building Institute™ Launches the WELL Community Standard™ to Promote Human Health and Wellness on a District Scale
New Pilot Program to Set a New Global Benchmark for Healthy Communities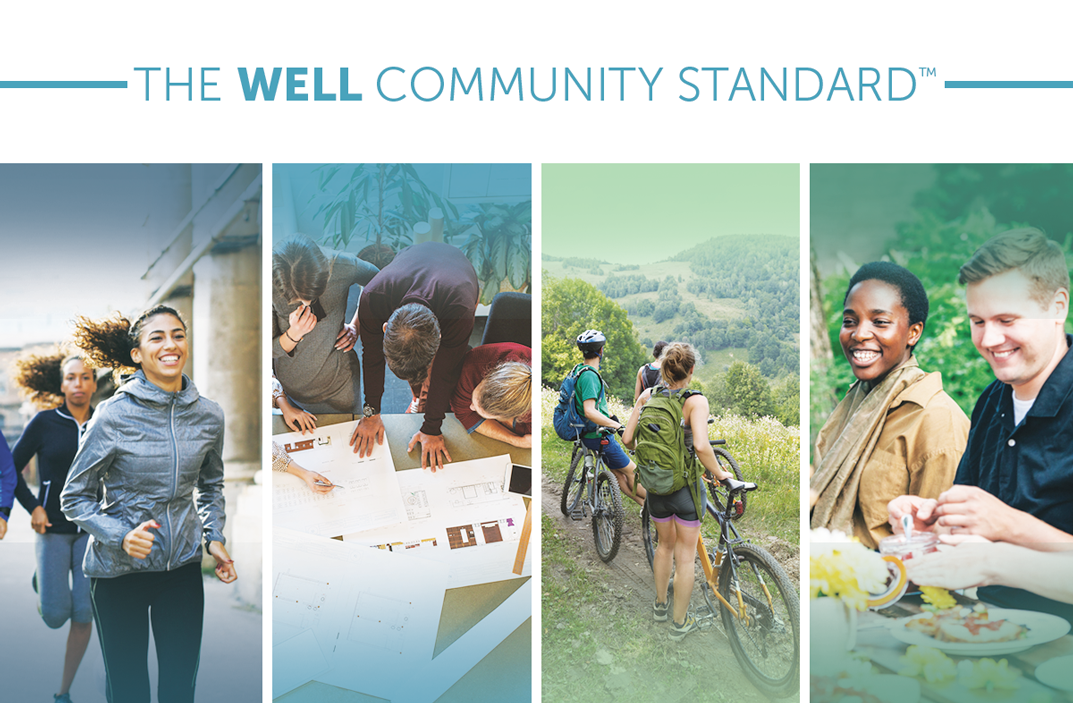 NEW YORK, September 5, 2017 /3BL Media/ - Today, the International WELL Building Institute™ (IWBI™) opens registration for the WELL Community Standard™ pilot, a companion to the pioneering WELL Building Standard™ (WELL™). Grounded in evidence-based research and developed through consultation with leading physicians, scientists and public health professionals, as well as city planners, engineers and architects, the WELL Community Standard is a district-scale rating system centered exclusively on human health and wellness.
The WELL Community Standard builds on the principles of the WELL Building Standard, a performance-based system for measuring, certifying and monitoring features of buildings that impact the human experience. It aims to set a new precedent for planning, building and development by providing a thorough understanding of how communities can employ actionable strategies and interventions to support the health and well-being of their residents across all aspects of community life.
"The WELL Community Standard is an important next step in what I like to call the 'second wave of sustainability,' whereby the environments we construct actively promote human health and wellness," said IWBI Chairman and CEO Rick Fedrizzi. "We are excited to unveil this program and believe that with its tremendous reach, the WELL Community Standard has a revolutionary capacity to truly enhance people's health and quality of life on the widest scale to date."
Building off existing WELL programs and incorporating features specific to urban scale developments, the WELL Community Standard focuses on 10 concepts that impact human health and wellness: Air, Water, Nourishment, Light, Fitness, Temperature, Sound, Materials, Mind and Community.
The standard benefitted from expertise provided by several notable community-level projects, including Water Street Tampa in Tampa, Fla., which inspired the creation of the standard in September 2015 when Strategic Property Partners, LLC (SPP), the developer of Water Street Tampa, joined President Bill Clinton at the Clinton Global Initiative. Water Street Tampa was the first adopter of WELL's approach for a community founded on health and wellness as part of its core development principles. Located in the heart of downtown Tampa, Water Street Tampa intends to revitalize the surrounding area and create an urban, mixed-use waterfront district consisting of over nine million square feet of new commercial, residential, hospitality, cultural, entertainment, education and retail uses, totaling approximately $3 billion in private investment.
Other working group member projects included Coeur de Ville in Ville d'Issy-les-Moulineaux, France, a new eco-district developed by ALTAREA COGEDIM that puts digital at the service of social interaction and good living together. It covers more than 30,000 m² of land and includes an urban park, 40,000 m² of housing. 40,000 m² of offices, 15,000 m² of commercial space, a digital creative center, as well as public buildings and facilities, including a school.
Tropicana Field Conceptual Master Plan Project in St. Petersburg, Fla. is a proposal for redeveloping the current 86-acre Tropicana Field site into a mixed-use destination district that will feature housing, office buildings, retail spaces, public parks and plazas, and even a research and tech campus, as well as a new baseball stadium in the northeast corner of the site.
Shanghai EXPO Urban Best Practices Area was a flagship project from the Shanghai World Expo 2010. By enabling global cities to partake in the World Expo for the first time in history, the project became a successful innovation itself. The project served to showcase, communicate and promote best practices in development, management, planning and construction of urban areas, hence creating a positive impact on future urban development. In the post Expo era, Shanghai EXPO Urban Best Practice Area continues its vision for a "Better City, Better Life," placing a major focus on supporting the creative industry to forge a city district sustaining the Expo spirit and Shanghai style. The UBPA project, as the first in Asia to have achieved pre-certification for LEED for Neighborhood Development at the Platinum level, is committed to a low carbon footprint throughout the district, and is positioned to attract businesses in the area of cultural heritage and creative industry as a new commercial destination in Shanghai.
In addition to the significant contributions by these projects, IWBI collaborated with a robust team of other working group members and contributors to develop the pilot program. The members, who were instrumental in refining program operations and providing expert content recommendations for community elements and features, include several of the building and health fields' most highly esteemed organizations, professionals and subject matter experts. Key contributors include Arup, Gale International, Hart Howerton, HKS, Inc., McLennan Design, Shanghai EXPO UBPA Business Development Co., Ltd. and SRIBS and the U.S. Green Building Council.
The WELL Community Standard is a companion to the WELL Building Standard, whose pilots include retail, multifamily residential, education, restaurant and commercial kitchen projects. These programs have been developed as an adaptation of WELL to glean information from a wide range of building sectors who want to be at the cutting edge of the sustainability and healthy building movement.
About WELL Standards
The WELL Building Standard™ (WELL) is a performance-based system for measuring, certifying and monitoring features of buildings around the globe that impact the health and wellness of people. It is grounded in evidence-based research that demonstrates the connection between the buildings where people spend approximately 90 percent of their time and those buildings' health and wellness impacts on those who use them. The WELL Community Standard™ is a district-scale rating system that takes into account the interconnectivity between buildings and their surroundings and the overall impact on human health. The WELL Building Standard and the WELL Community Standard are delivered by the International WELL Building Instituteä and third- party certified by Green Business Certification Inc. (GBCI). www.wellcertified.com
About the International WELL Building Institute™
The International WELL Building Institute (IWBI) is a public benefit corporation that is leading the movement to promote health and wellness in buildings and communities everywhere.  IWBI delivers the cutting-edge WELL Building Standard™ and the WELL Community Standardä, performance-based systems for measuring, certifying and monitoring features of buildings and communities that impact the health and wellness of the people who live, work and learn in them. It also supports the growing number of professionals who seek WELL accreditation, as administered by GBCI. www.wellcertified.com
 
Press Contact:
IWBI                                                                          
Callie Stanton                                                 
646.654.3438                                                             
cstanton@nikecomm.com