Inspiring Tomorrow's Innovators, One LEGO Brick at a Time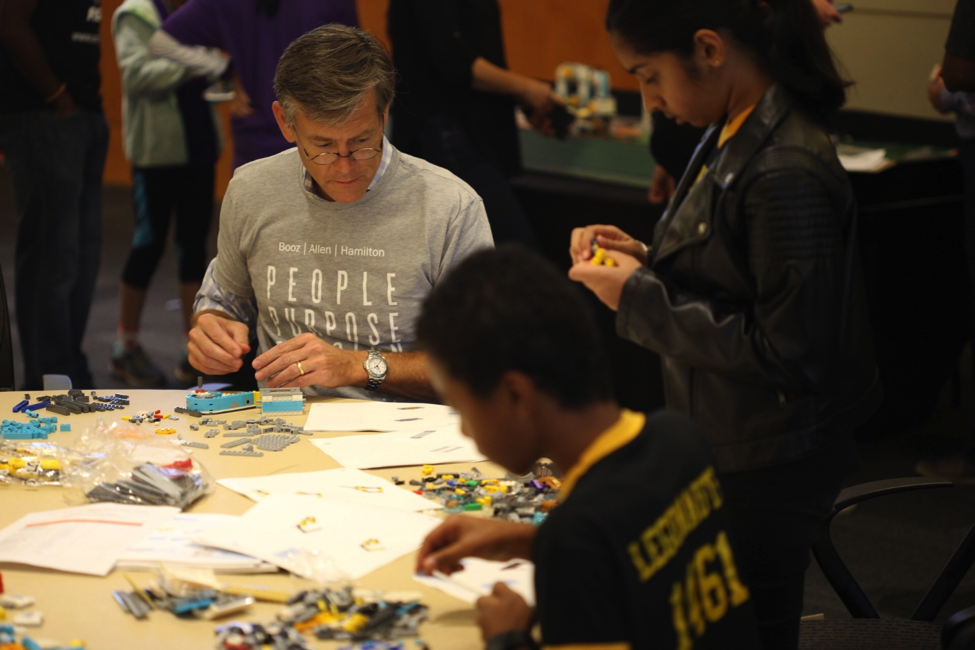 Matt Erskine, executive advisor at Booz Allen, pictured with FIRST LEGO League students.
Why types of mission models were created? What will they ultimately do?
Every year, FIRST LEGO League teams—comprising students aged 9 to 16 in more than 80 countries—are asked to think like engineers and scientists to solve an important, real-world problem. This year's challenge—HYDRO DYNAMICSSM—is all about water, and how you improve the way people find, transport, use, or dispose of water.
The kids learn about these different issues while gaining science, technology, and engineering skills. They assemble thematic and custom-made LEGO mission models. Then they program a robot to interact with the models to earn competition game points for their team. They're also asked to create an innovative and unique solution to an aspect of the problem that most interests the team.
On what we call "LEGO Build Day," I assembled rain water machines, water sensors, water storage devices, and fire hydrants with LEGOs. It was very cool seeing how the models were designed, with special moving parts and intricate pieces. .
Our models will be used this fall at FIRST LEGO League competitions across Virginia and DC. Our volunteer team assembled the models for 15 game fields, accomplishing in just 3 hours what could take FIRST employees several days to complete!
What was it like building LEGO models as an adult?
Building LEGO models fires up my problem-solving brain. With a picture of the end-product and step-by-step instructions, there are still many variables to get right. And the pressure was on! A panel of experts—kids who participate in FIRST LEGO League—was responsible for quality control. The first model I worked on had several complicated moving pieces. When I took it to the quality panel, my model was rejected! I reviewed the process steps and had to pry open the model to get at the inner workings to see where the malfunction was. It turns out a key lever rod was pushed too far in one direction. With the repair, the model worked properly, and I passed quality control! What a great sense of accomplishment!
How does playing with LEGOs tap into your childhood through genuine creativity?
I loved LEGOs as a kid, and had a huge collection of LEGO kits. I'd look at the photo of the end product and work to get there. I also enjoyed going "outside the lines" to create something very much my own. There's something inspiring about dumping a pile of LEGOs on a table—different shapes, sizes, colors—and building something tangible and meaningful. Here as a volunteer, the sound and even the smell of the LEGOs brings back that childhood feeling of accomplishment.
If you want to build the model on the box, that's great! That requires discipline and a focused creativity. If you want to build something unique, that's great, too! The options for constructing an unlimited variety of models are right there. It sparks your imagination.
And the cool part—and what I remember as a kid—is you can build alone or as part of a team. Using each other's ideas and strengths taps into collective ingenuity to create things that no one may have anticipated.
What are your top three takeaways from this experience?
No one organization or sector alone can solve our toughest problems or lead us into the future. We need to work together to create opportunities and generate solutions that are innovative, inclusive, and impactful. For me, this LEGO Build experience proves it.
First, working with my colleagues from Booz Allen was inspiring. It made me proud to work for a firm with such a commitment to passionate service.
Second, FIRST is about much more than LEGOs and robots! Nearly everyone I met—FIRST kids, parents, and alumni—talked about the problem solving, teamwork, and communication skills learned and applied in FIRST.
Finally, the FIRST supporter community reflects the collaboration and collective ingenuity FIRST teaches its participants. Federal agencies such as the U.S. Patent and Trademark Office and companies like Booz Allen can connect over a shared commitment to innovation and inspiring youth. Our country's future workforce and innovation economy are mission critical for us all!
Do you want to learn more about FIRST and be part of the solution? Go to http://firstinspires.org to learn more.
Do you want to join Booz Allen's community of problem solvers? Learn more about our digital careers.