Human Capital Management: Holistically Bringing Together Human Rights, DEI, and Health and Safety
Q&A with Esther Hackett, Vice President of Human Resources at Gildan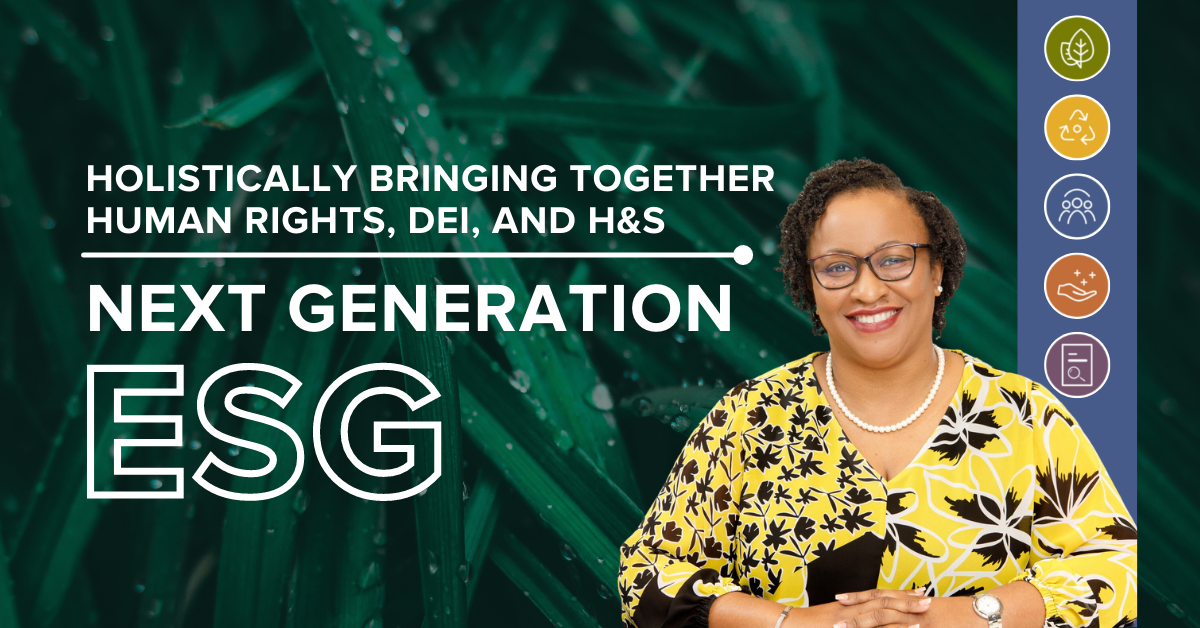 Human Capital Management: Holistically Bringing Together Human Rights, DEI, and…
With the recent launch of Gildan's Next Generation ESG strategy and future targets, we wanted to sit down with a member of Gildan's leadership team on one of the Company's most important areas of focus – respect for people.
Esther Hackett, Vice President of Human Resources, has worked at Gildan for 16 years. She currently oversees the Company's Human Capital Management ESG working group and works with other departmental heads and HR leaders on matters related to human rights, health and safety, and Diversity, Equity, and Inclusion to support the achievement of the ESG mandate across the organization.
Q: What is Human Capital Management for Gildan and how did this area of focus come to life?
Respect for people has been a focus for Gildan from the beginning, but in 2021 we decided to take our commitment to the next level. Gildan undertook a third materiality assessment to gather valuable insights with internal and external stakeholders, assessing key areas of importance when it comes to ESG. Through this assessment, 12 material topics of high priority were identified, three of which were 1) human rights, 2) health and safety, and 3) diversity, equity, and inclusion.
After some brainstorming, the ESG team decided to bring these three topics under one roof, Human Capital Management, in order to tackle them holistically.
Q: Can you tell us more about Gildan's longstanding efforts on human rights and health and safety?
Gildan has always been focused on human rights and what it means to be an ethical manufacturer. Our longstanding priority has been to enforce and protect the fair treatment of employees who manufacture our products. To do this, we have strong oversight of our supply chain, which allows us to hire, train, and support the long-term wellbeing and advancement of each of our employees.
On the health and safety front, we've always taken a serious approach to improving employee safety, reducing workplace risks, and creating better, safer working conditions. Over the years, we have made significant and ongoing investments toward modern equipment and technology, world-class health and safety programs, innovative material handling processes, onsite health care, and a variety of health and wellness campaigns.
With 37 years of manufacturing experience under the Gildan hood, it is safe to say that we've come a long way to know how to operate a supply chain that's safe and ethical.
Q: As part of Gildan's Next Generation ESG strategy, the Company established a goal on gender parity. Can you tell us a little more about that?
As a global company, with offices, operations, and employees located in multiple parts of the world, diversity, equity, and inclusion is at the forefront of our priorities. As a first step to reinforcing DEI, we set a goal to improve gender parity for roles representing the collective group at the director level and above. We're proud to say that we have already achieved gender parity globally in manager level and less senior positions, but as we move up, we noticed that this ratio does not necessarily reflect upwards. This is quite a common occurrence in companies, and one that we are determined to tackle.
Q: What are some of the strategic drivers that will help Gildan reach its gender parity goal?
We have some great internal programs that seek to support high-potential women to foster and accelerate their growth into leadership positions like our Women's Leadership Program – Ignite Your Impact. Over the next few years, we will also be rolling out many new initiatives to support this goal, further empowering our women and increasing their development opportunities across our organization, including in our manufacturing facilities.
We're also planning to partner with external organizations to leverage their expertise and knowledge to succeed in this important area of focus.
Q: Let's switch gears a bit and talk about the future of Health and Safety. Gildan has set a goal to attain the ISO 45001 certification at all Company-owned and operated facilities by 2028. What is it going to take to reach this goal?
Since our beginnings, we have always been focused on providing employees with a workplace that is safe. We've set an aggressive, but important, goal to get all our facilities ISO 45001 certified by 2028. This certification is the world's international standard for occupational Health and Safety (H&S), focused on solidifying a health and safety culture through improving employee safety, reducing workplace risks, and creating better and safer working conditions.
For each of our facilities, the journey to ISO 45001 starts at a different point, as our facilities are at different stages of maturity — some were greenfield projects and others have been acquired and modernized by Gildan – but ultimately, the destination is the same. It's going to take a lot of effort globally to get every single one of our facilities certified but we are proud to say we have already made some great progress on this front, and once we've achieved ISO 45001, we'll have an even more robust global H&S system.
Q: What are some of the challenges you have run into while advancing your Human Capital Management area of focus?
The biggest challenge in creating a robust, global H&S system and advancing DEI initiatives that are truly standardized and consistent is the fact that each of our locations is unique in its own way. Each operates in different jurisdictions with varying laws and policies, as well as different cultures that sometimes put a different emphasis on H&S and/or DEI efforts. Despite these challenges, we're committed to levelling the playing field by building on what's working, while also taking into consideration local realities and cultures. In short, we want to think globally and act locally.
Q: What is something that pleasantly surprised you along the way?
In any situation, change can be overwhelming at times and our Next Generation ESG strategy is certainly bringing about some exciting changes! We're shifting gears and it requires quite a bit of adjustment for everyone. However, at every stage of this journey so far, every member of the working group has been a positive driving force to reshape and refocus our efforts to make greater positive impacts. Our employees' dedication to these important initiatives consistently impresses me and I have left each meeting feeling energized and confident that we will be successful. It has also been a real pleasure for me to work with so many people around the world and see such a diverse group of employees come together to make Gildan a better place.