How to Keep Girls Passionate About STEM? Lead by Example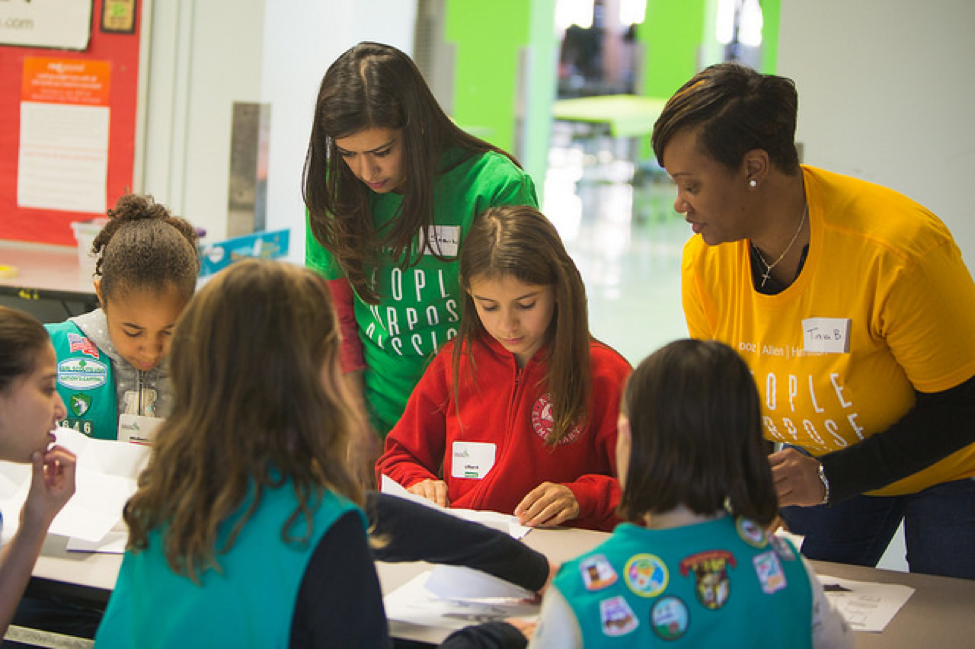 What better way to keep girls interested in STEM than by showing them what a future career could look like? On November 19, 100 Washington, D.C. area Girl Scouts experienced a day in the life of a microbiologist, a civil engineer, an industrial designer, and a computer programmer at Booz Allen Hamilton's Make the Connection (MTC) mentor program event, held in partnership with Girl Scouts Nation's Capital.
Studies show that girls lose interest in STEM as teenagers, and November's MTC event was designed to stoke the enthusiasm of girls aged 9-11 through an assortment of fun activities related STEM career paths. The "Snot on a Rod" exercise taught the girls how to extract DNA from a strawberry. The "Tower Topping Trial" exercise gave the girls tools to construct mini-edifices with uncooked spaghetti noodles and marshmallows, while the "Snack Attack" exercise allowed the girls to build water and heat resistant packages for the popular s'mores snack.
Forty-five Booz Allen mentors engaged with the girls, participating in hands-on STEM-focused exercises, discussing their careers and the benefits of exploring opportunities in STEM. The girls kicked off the day by following a variety of instruction sets to build several different airplane models, testing each model to see which design was most aerodynamic.
"We must shift the paradigm to encourage girls' exploration of STEM in both big and small ways," said Regina Lam, a Content Strategist at Booz Allen and a mentor at the MTC event. "Our actions make a difference."
Now kicking off its twelfth year, the MTC program continues to inspire young women to dream big and believe in themselves as they begin to brainstorm potential careers. Want to learn more? Check out the Make the Connection Program in action on Flickr. 
Booz Allen empowers people to change the world. Check out careers at the firm: https://www.boozallen.com/careers.html