How Booz Allen and Hawai`i FIRST Robotics Are Creating an Island-Based Tech Talent Pipeline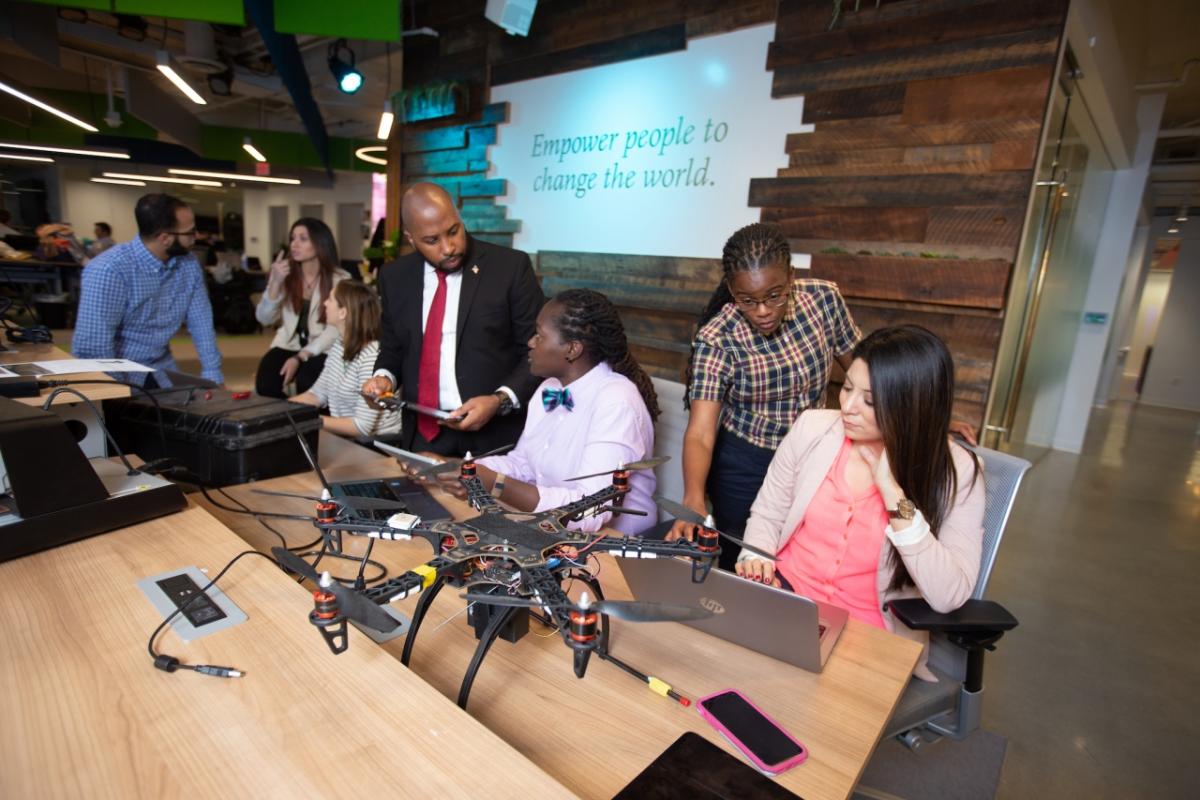 "We can help diversify the economy with more technical jobs. Part of that is building the base supply of talent and demonstrating that you can afford to live and work in your island home."
-Booz Allen Principal Michael Collat
Hawai`i, best known as one of the world's most popular tourist destinations, has a problem retaining talent in technical fields: Many young people have been leaving the islands due to a combination of the high cost of living and a lack of economic opportunities, both real and perceived. The COVID-19 pandemic has further accelerated efforts to improve economic resilience by diversifying the local economy.  
Hawai`i FIRST Robotics and Booz Allen are working to be part of the solution by introducing students from ages 6 to 18 to STEM projects, aiming to keep tech talent in Hawai`i and grow the state's innovation ecosystem.
Booz Allen has partnered with FIRST for more than a decade, volunteering at FIRST LEGO League and FIRST Tech Challenge tournaments, helping to plan the annual FIRST Robotics Competition, and awarding grants to make robotics and STEM more inclusive.
Highlights follow from the FIRST stories of four Booz Allen employees—two in ongoing leadership roles and two whose FIRST experiences led them to Booz Allen.
Friends, fun, and 5 a.m. kickoffs
Booz Allen Scientists Camelia (Cammy) Lai and Kayla Kwock have known each other since middle school and attended the same high school and college. Last fall, both joined Booz Allen's Honolulu office as new full-time employees following successful internships with the firm.
As a child, Lai watched college robotics competitions with her mother. She was quickly hooked. "I thought it was really cool and seemed like something I wanted to do," Lai said. "The first thing I did in high school was join the robotics team."
FIRST tournaments were not for the faint of heart. "The whole team attended kickoff at 5 a.m., which added to the excitement," she recalled. From there, the team had six weeks to build the robot. Lai was far from daunted.
"It showed me possible career directions and opportunities that were out there," she said. "Realizing the impact of tech and STEM was pretty inspiring and eye-opening."
For Kwock, FIRST was a gateway into programming, and a journey of curiosity and discovery. "In my FIRST team, my role was a builder. I was interested in the hands-on part and shadowing people to see what fit me most," she said.
In FIRST, she found an aptitude for STEM projects—and a community. "Meeting new friends, coming up with ideas and a plan together, working side by side—it was the best times," she said.
Well prepared for the Summer Games
While attending the University of Hawai`i at Manoa, Kwock and Lai were both selected for Booz Allen's Summer Games program—intensive internship roles they pursued after building relationships with Booz Allen volunteers at FIRST events over the years. The Summer Games program brings together university students from around the world to respond to major global problems through collaboration and creativity—a natural fit for two FIRST participants who brought their robotics knowledge to their new roles.
Kwock's team sought to develop a program capable of recording a verbal meeting and automatically generating meeting notes. "We called this MOTHER, for Machine Operated Transcription Heuristic Extrapolation Resource," Kwock said.
Cammy's team tackled cybersecurity for IoT networks. "We worked with a company that creates devices and networks for IoT smart power grid infrastructure," she said. "We searched for security vulnerabilities in the hardware and software of their devices and their networks, and we compiled our findings into a document along with recommendations for security improvements."
"Getting things done and making a big impact" at Booz Allen
When they started to look for jobs after graduation from college, both Lai and Kwock turned again to Booz Allen.
"Empowering people to change the world—that was something I remembered hearing while in high school when Booz Allen came to present at a FIRST competition," Lai said. "I really liked that phrase. I wanted a job where I'd be helping to get important things done and making a big impact."
Today, Lai develops software with a team supporting DoD (Department of Defense) clients, while also venturing into data science. 
Kwock works with Booz Allen's Solutions Engagement team. "FIRST set me on the path to engineering," she said. "I literally would not be where I am right now if not for FIRST." Her current projects include a pro bono initiative for the Bishop Museum to improve its IT systems after a 2019 ransomware attack.
"There is a tangible impact to the things you're doing," Kwock said. "Knowing that I can be something and have Booz Allen's backup is something special."
Steering FIRST through COVID-19 and into the future
Meanwhile, Booz Allen and FIRST continue to collaborate—focusing on getting Hawai`i youth excited about STEM careers. Booz Allen Principal Michael Collat has been the state-wide Regional Director of the FIRST Robotics Competition, and Senior Associate Teri Nobriga has been involved as a judge and advisor for nine years.
Both have a personal connection to the program. Nobriga's daughters were involved with STEM camps put on by FIRST teams while Collat's youngest daughter participated in a FIRST program.
"I think that the teams do an amazing job at developing programs that expose STEM to students at a young age," Nobriga said. "As a mom of two daughters, it's particularly inspirational seeing young girls get involved as programmers and builders."
These days, the two share a vision for how Booz Allen's commitment to programs like FIRST through sponsorship, judging, mentoring, and program planning can help develop a Hawai`i-based talent pipeline.
"Cammy and Kayla have a great story that shows the impact that's happening, and we want to try to normalize that a bit more," Collat said.
As the world emerges from the COVID-19 pandemic, which hit Hawai`i's service-and tourism-driven economy particularly hard, Collat sees a role for Booz Allen and programs like FIRST in the recovery.
"There's a communal responsibility to help develop meaningful and well-paying jobs for people in Hawai`i," he said. "It's good for our business, but our business is also about taking care of the community."
"Booz Allen is just putting a big rock in the pond and the ripples are going and going and going."
Learn more about Booz Allen careers in Hawai`i and about the firm's focus on innovation.