'Hacking Hurricanes: The Road to Recovery' Challenges Teams to Improve Disaster Response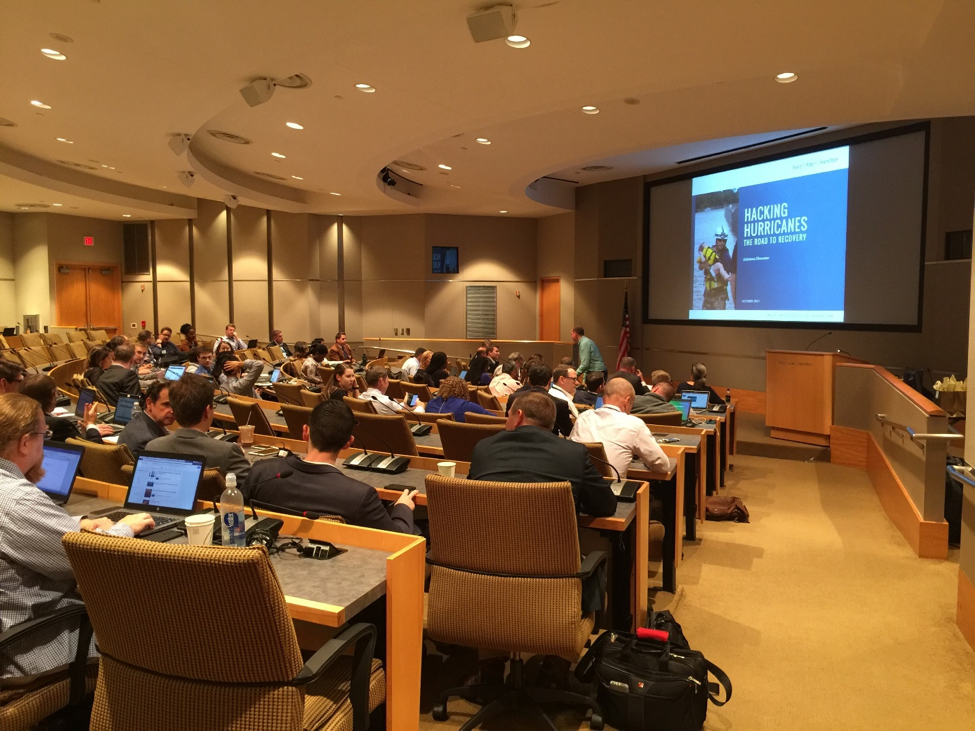 When hurricanes strike, the speed that relief services—including medical supplies, water, food, and fuel—arrive at affected communities can make the difference between life and death. The 2017 hurricane season was one of the worst in history, and the need to improve recovery efforts has never been more urgent.
In October, over a hundred problem solvers, including data scientists, computer programmers, and communications specialists, gathered at Booz Allen Hamilton in McLean, VA, to compete in 'Hacking Hurricanes: The Road to Recovery.' Challenged to address inefficiencies in the nation's disaster recovery systems, teams developed innovative solutions which were judged on their impact, feasibility, originality, and use of leading edge technology. Winners were chosen by a panel of experts including Booz Allen Executive Vice Presidents Karen Dahut and Fred Blackburn; Jim Toye, the Chief Operating Officer of the American Red Cross, National Capital Region; and Joe Nimmich, Senior Executive Advisor and former Deputy Administrator of the Federal Emergency Management Agency (FEMA).
Three teams were chosen as Hackathon winners. Their solutions are outlined below:
Team Eyes On, Hands Off was the overall winner with a solution that overhauls FEMA's contracting and logistics process. Currently, FEMA pre-emptively activates contracts for trucking, food, water, and fuel before a natural disaster strikes. Truck drivers are diverted to staging areas where they wait in parking lots until their supplies are needed. Team Eyes On, Hands Off proposed creating a blockchain network with trusted, major suppliers. FEMA would publish "smart contracts" to an open marketplace requesting basic disaster supplies.  The system would allow suppliers to be paid automatically as soon as the network verifies that they have delivered the right supplies to the right location. Not only would this system get supplies quickly to where they are most needed;it would also save taxpayers money, increase accountability, and ensure that new industry players are included in the supply marketplace.
 
Team DisasterAssistance.gov pitched a suite of enhancements to help FEMA and first responders identify immediate needs by showing a heatmap of disaster areas—illuminating utility outages, and shelters, and highlighting residences of individuals with known medical conditions. DisasterAssistance.gov would streamline the registration and application process for disaster assistance funding, improving application intake and speeding up the assistance disbursement process to encourage efficient data-sharing between partnering agencies.
 
Team Hurricane Vision's application will leverage computer vision algorithms to assess home damages and expedite how FEMA prioritizes inspections and funding. The software can identify houses that are either completely destroyed or have major damage (e.g, a collapsed roof). It can also identify flooded areas and estimate the floodwater's depth. This will not only save FEMA time and money (by reducing the costs spent on home inspections), it would also help residents get their claims approved faster – leading to a more expedited recovery process.
The winning teams were given top-shelf prizes including the new Apple iPhone X and the Apple Watch Series 3 with GPS and cellular. Moreover, the winning solutions have been shared with Booz Allen leadership working in disaster prevention and emergency response. These leaders will help further develop and refine the solutions, with an ultimate goal of improving the nation's ability to predict, respond to, and recover from natural disasters.
To learn more about how Booz Allen is using the power of hackathons to tackle social problems, click here.