Eastman Board Members Featured in WomenInc. Magazine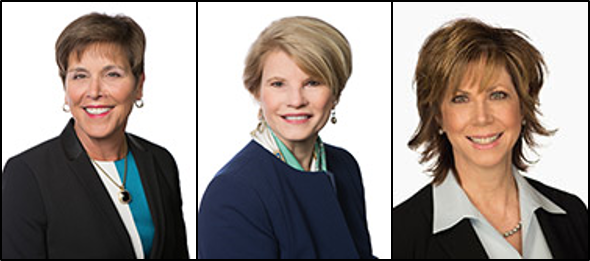 WomenInc. magazine announced the release of their 2018 WomenInc.'s Most Influential Corporate Directors listing, featuring a directory of over 560 directors serving on the boards of S&P 500/Big-Cap publicly held companies. We're proud to have three Eastman board members featured.  
A diverse and committed workforce, with a range of talents, perspectives, and ideas makes innovation at Eastman possible. That diversity and commitment extends to Eastman's Board of Directors in the form of three dynamic and innovative women: Dr. Kim Ann Mink, Julie F. Holder, and Renée J. Hornbaker, and we salute them.
"We're growing a powerfully diverse workforce with increasingly diverse talents, perspectives and experiences that bring the best ideas to the table, and that's exceptionally important for how we're going to exceed in the world," said Mark Costa, Board Chair and Chief Executive Officer. "We continue to transform gender diversity at the leadership level by putting a focus on mitigating unconscious bias and making intentional developmental investments to accelerate the readiness of women for leadership roles. I'm proud of the fact that the rate of women being promoted within professional and management roles at Eastman continues to increase, and we're consistently hitting our gender targets for new hires. I'm also proud we've seen that embodied in our board as well."
As a leading business magazine reporting on women's success and achievement, the Women Inc.'s Most Influential Corporate Directors issue is the most comprehensive listing of women executives, influencers and achievers contributing leadership to corporate boards.
"It is essential that the achievements and success of professional women are showcased in the highest regard and their stories are told in meaningful ways. WomenInc. is proud to recognize this distinguished group of women serving on public boards." said Catrina Young, Executive Vice President and Chief Communications Officer of WomenInc. Magazine. "We are inspired by these accomplished executives, their distinguished careers and the corporations that demonstrate inclusive board composition. We offer congratulations and appreciation to the directors recognized in WomenInc.'s Most Influential Corporate Directors edition for their leadership."
The list is available here. 
Full bios for Dr. Kim Ann Mink, Julie F. Holder, and Renée J. Hornbaker are available here.