TCS | Ignite My Future in School

Tata Consultancy Services (TCS) and Discovery Education (DE) are proud to bring you Ignite My Future In School.
This dynamic educator training and thought leadership program will drive TCS' mission of changing the landscape of computer science education for students. As a first step towards this goal, TCS and DE announced that 10 U.S. school systems across the country – with more than 6,700 teachers and 194,000 students – joined the effort as early adopters of this transdisciplinary approach. Ignite My Future in School has a goal of engaging 20,000 teachers and one million U.S. students by 2021.
They have joined the initiative in a five-year educator training and learning commitment to help empower middle school teachers. These select schools will experience the unique opportunity to learn and apply computational thinking through an annual free day of professional development for educators and community night for parents. In addition, TCS and DE have launched several resource platforms that are aligned to national standards, as well as the recently launched K-12 Computer Science Framework. 
TECHademy - to engage teachers across the nation in an exclusive virtual professional development experience. The immersive engagement will catalyze their learning journey and provide hands on experiences they can bring back to their classrooms. 
Days of Discovery - Up to 150 educators and 250 community members in each district will attend each event and community night. Additionally, local learning leaders will promote teacher learning communities, connect participants and act as guides for cross-district learning and sharing, while more than 3,000 TCS employees will be actively involved as mentors and support the building of local coalitions in each city. 
Curriculum Resources - Inspires educators across the U.S. through a virtual digital platform that features an abundance of curriculum resources – engaging transdisciplinary lessons that tie-in exciting, real-world scenarios covering computational thinking strategies across core subject areas.
eLearning Module - Helps to infuse computer science with everyday subject instruction. Accessible by all teachers, it will provide a guided online introduction to computational thinking courses that can be completed in one or multiple web-based sessions. 
Webinar Series - Will provide compelling webisodes and feature key topics on computational thinking brought to teachers by thought leaders in the education industry. Instructional courses and content will provide faculty with the opportunity to leverage new teaching strategies in their classrooms, the series is designed to promote increased student engagement and achievement. 
Ignite My Future in School builds on TCS' robust community initiatives that have inspired more than two million young people in STEM education and careers. Learn more and sign up at ignitemyfutureinschool.org. 
Videos from this campaign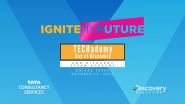 Content from this campaign