Bringing the Booz Allen Foundation's Mission to Life During COVID-19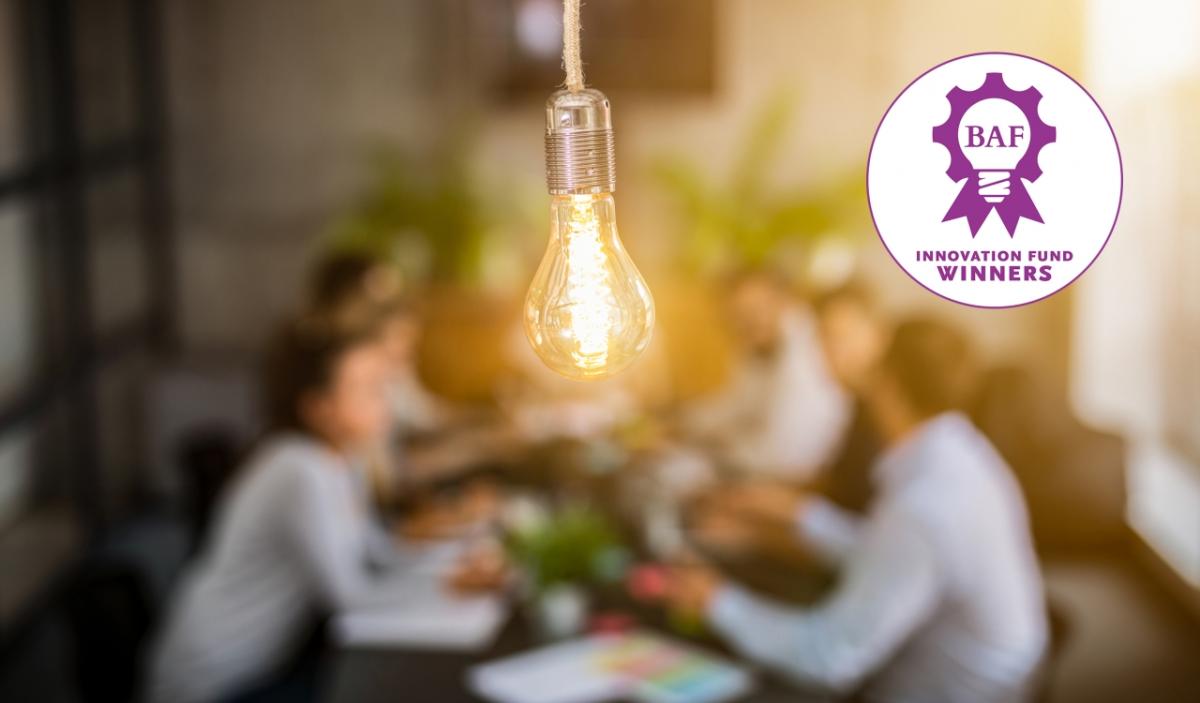 Last year, the Booz Allen Foundation awarded nearly $1 million in grants as part of its newly launched Innovation Fund to address issues stemming from the COVID-19 pandemic. Now, hear from four grantees and see what impact they've made.
"Our team at the Booz Allen Foundation strives to empower people to develop innovative technologies and solutions that help vulnerable populations build generational resilience. The Innovation Fund brought our mission to life during an unprecedented crisis."

-Booz Allen Foundation Executive Director Christine Hoisington
In April 2020, the Booz Allen Foundation launched its Innovation Fund to support creative solutions that addressed the wide-ranging impacts of the COVID-19 pandemic. Five months later, following an extensive review process to vet nearly 3,000 applications, 21 nonprofits, university projects, entrepreneurs, and startups received a total of nearly $1 million in grants. In addition to the grant money awarded by the Booz Allen Foundation, Booz Allen Hamilton also provided pro bono consulting projects to help four nonprofits that received grant funding to navigate key issues including strategic planning, data science and analytics, cybersecurity, and financial modeling.
After several months working together, the Innovation Fund grant awardees and the Booz Allen pro bono teams have some exciting results and updates to share—rooted in solving problems that arose in a year like none other.
Improving an app for survivors of domestic abuse
Created by Becky's Fund, the ENDOVI mobile app offers those affected by domestic violence immediate, location-based access to critical resources and a pathway to escaping abuse.
Over the past year, technical assistance in cybersecurity, data intelligence, and artificial intelligence helped Becky's Fund strengthen the app and "work smarter and safer in the world of advocacy," said the Fund's Executive Director and Founder, Becky Lee.
Milestones included:
Improving the app's chatbot feature through AI so that different user questions make the app smarter and faster
Developing a data analytics framework to harness app data for trends and research
Creating a design thinking framework for evaluating big-picture trends like the causes of gender-based violence and the needs of domestic violence survivors 
Successfully completing final development of a logbook and safety plan for the app
 "Through this partnership with Booz Allen, Becky's Fund was able to create a revolutionary tool to support survivors in safely leaving abuse. As user safety is the top priority for ENDOVI, Becky's Fund was able to enhance the security of the app in ways we would not have known about without the specific expertise and background of the Booz Allen team," Lee said.
Improving product design to address a critical gap in PPE
To address the shortage of personal protective equipment around the globe, Abaton builds and donates PPE disinfection devices. The Innovation Fund enabled Abaton to create the Arca 2.0: a version of its decontamination device that is 34% less expensive and 40% lighter than the initial model. It can also clean twice the volume of masks per cycle and can be mass produced.
"Working in conjunction with systems engineers from Booz Allen Hamilton, Abaton has developed an iterative design of the Arca system that improves on its throughput, cost, and ease of manufacturing," said Abaton President Loren Mead.
"We will leverage the improved design for a new round of fundraising to produce the next 100 units and protect thousands of frontline workers in several countries," he said.
Exploring new resources for disease surveillance
During a public health crisis like the COVID-19 pandemic, it is important to be able to monitor the spread of infection quickly and accurately to effectively target limited public resources, save lives, and mitigate impacts on the economy.
Unfortunately, official case counts are likely underestimates since many asymptomatic and mild cases may never have been detected. Further, conventional sampling approaches for disease surveillance often involve some level of bias that is difficult to quantify or adjust, especially in a pandemic setting, and varying methods across time and place making direct comparisons impossible.
The UChicago Energy & Environment lab designed the RECOVER study to address this problem. The RECOVER study uses a novel approach developed by the research team to produce reliable estimates of disease spread in the general population.
Supported by the Booz Allen Innovation Fund, the UChicago research team demonstrated proof of concept for the RECOVER approach through pilot studies in Chicago, completed in 2020 and 2021. The approach is easily replicable and thus provides a scalable blueprint to improve disease surveillance more broadly. Critically, this would allow for reliable comparisons across time or place.
Booz Allen provided critical financial support for the implementation of the RECOVER pilot studies, which will serve as a model that state and local governments can adapt for COVID-19 or other disease surveillance efforts. Booz Allen also provided pro-bono support to the RECOVER research team to help identify ways to integrate technology to refine, automate, or digitize various aspects of study operations, with the ultimate goal of making the study increasingly cost-effective to replicate and scale.
Helping a vital service grow and scale
Developed by the Filipino Young Leaders Program (FYLPRO), the Caretaker Project is a virtual help desk service that has connected Filipinos to vital legal and wellness services, debunked misinformation and warned against fraud and scams during the COVID-19 pandemic.
During the grant period, the Booz Allen team helped the busy nonprofit develop a strategic plan, set up analytic dashboards, and begin restructuring the organization to better position it for success and sustainability.
"It's something we knew needed to happen but few of us had real capacity to think through given that we were so focused on the daily operations of the site and project," said FYLPRO Vice President Leezel Tanglao. "We appreciated their outside perspective and how they pushed us in ways we needed to grow and scale."
Read more about the Booz Allen Foundation Innovation Fund and learn more about the Booz Allen Foundation's impact in 2020.