Booz Allen's St. Louis-O'Fallon Office Named a 2021 Top Workplace
Booz Allen's St. Louis-O'Fallon Office Named a 2021 Top Workplace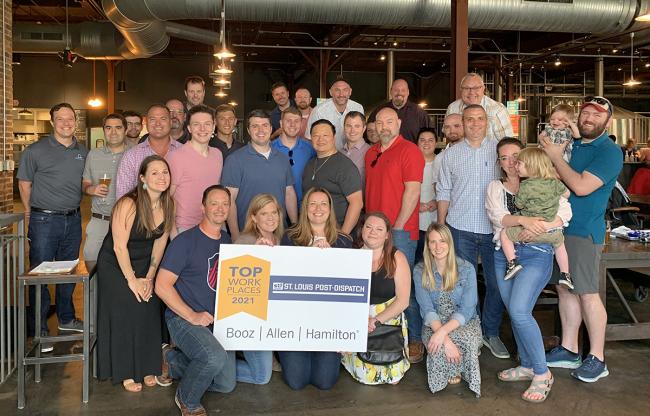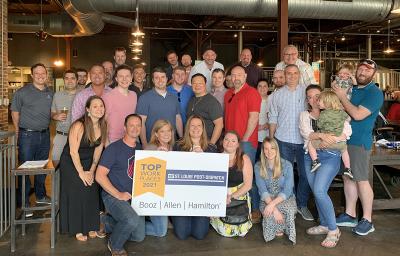 Tuesday, June 22, 2021 - 8:00am
The St. Louis metropolitan area is home to roughly 2.8 million people and leading employers like the Federal Reserve, Edward Jones, Drury Hotels, Energizer, and World Wide Technology.
For the past 10 years, the St. Louis Post-Dispatch has recognized top workplaces in the region for their leadership, values, strategic direction, and the motivation of their workers. Awardees are selected solely on the basis of employee nominations and surveys.
Last week, in the heart of the Midwest—on both sides of the Mississippi River—employees of the Booz Allen St. Louis-O'Fallon Business Center celebrated being named, for the first time ever, one of 2021's Top Workplaces in the St. Louis region.
"We are honored that Booz Allen has been selected as one of the top workplaces in St. Louis," said Booz Allen Principal Eric Druker, leader of the regional business center. "That this recognition is based on feedback from our employees makes it all the more meaningful."
A growing team of technology talent
The St. Louis-O'Fallon Business Center is comprised of 210 employees spanning two primary locations: one office located in the Cortex Innovation Community in the city of St. Louis, Missouri, while just across the bridge lies a brand new next-generation office in O'Fallon, Illinois.
The office grew roughly 25 percent within the last year alone and has plans to grow, rooted in initiatives and partnerships to develop a local tech talent pipeline and attract the brightest talent in the technology industry.
The St. Louis-O'Fallon team provides services in traditional management consulting, digital solutions, cybersecurity, and data analytics, and primarily supports defense clients at the National Geospatial-Intelligence Agency West campus and at Scott Air Force Base, including Air Mobility Command, U.S. Transportation Command, Cyberspace Capabilities Center, and Surface Deployment and Distribution Command. Its employees support a number of additional clients throughout the country and abroad as well.
"We're excited to continue our focus on building an inclusive and engaging culture as we grow our local presence," Druker said.
Read more about the St. Louis Post-Dispatch Top Workplaces award winners and learn about careers at Booz Allen.