Booz Allen Receives Corporate Pride Award for Advancing LGBTQ Equality and Leadership
Booz Allen Receives Corporate Pride Award for Advancing LGBTQ Equality and Leadership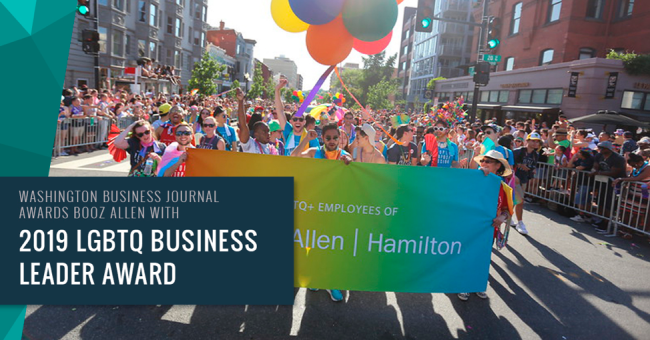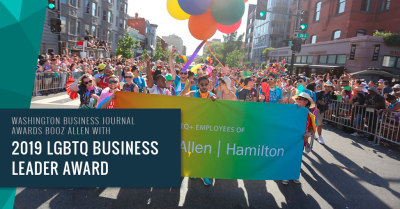 Friday, May 3, 2019 - 1:45pm
In recognition of its programs, practices, and policies that advance LGBTQ equality and leadership in the workplace, Booz Allen has received an LGBTQ Business Leader Award at the Washington Business Journal's 2019 Business of Pride Awards.
The Washington Business Journal launched the awards last year to recognize Greater Washington companies and business leaders for outstanding practices in advancing LGBTQ leadership and equality. This year's winners will be formally recognized June 13 at a cocktail awards reception at the Watergate Hotel.
"We are proud to be recognized as an employer of choice for top LGBTQ talent and a place that advocates for LGBTQ equality, visibility and leadership," said Michael Dumlao, who is Booz Allen's director of brand and co-chair of GLOBE, the firm's LGBTQ Business Resource Group. "Booz Allen is committed to using our ingenuity and creativity to build a future where everyone has access to the opportunities that help us thrive and prosper."
A strong tradition of LGBTQ commitment
Booz Allen has a long history of protecting and advocating for its LGBTQ workforce – even before such support enjoyed mainstream support – through non-discrimination workplace protections, domestic partner benefits, transgender-inclusive health care benefits, and public engagement with the LGBTQ community.
This year marks the 20th anniversary of GLOBE, which elevates the visibility and interests of LGBTQ employees and ensures their opportunities for development and advancement in a safe and affirming environment.
Booz Allen has also signed on to the Business Statement for Transgender Equality. As a signatory, the firm stands with millions of people who identify as transgender, gender non-binary, or intersex and calls for everyone to be treated with respect and dignity. 
Award-winning work in diversity and inclusion
The Business of Pride Award is the latest in Booz Allen's growing list of recognitions for its work in diversity and inclusion. For ten consecutive years, the firm has received a perfect score on the Corporate Equality Index (CEI)—a national benchmarking survey administered by the Human Rights Campaign (HRC) that evaluates LGBTQ-related policies and practices. 
Booz Allen has also been named to the Diversity Best Practices Inclusion List, which recognizes diversity and inclusion in recruiting, retaining, and hiring. 
Learn more about the Business of Pride Awards and diversity and inclusion at Booz Allen.