Booz Allen Named a Best Workplace for Commuters for 13th Year
Booz Allen Named a Best Workplace for Commuters for 13th Year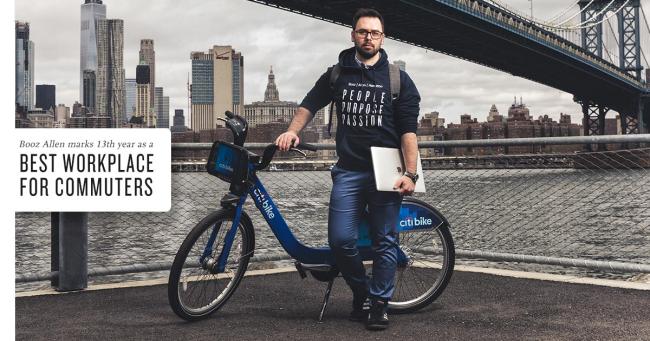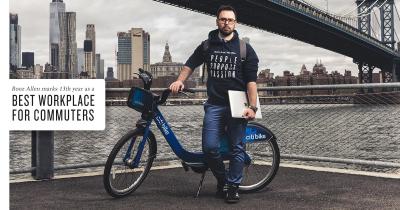 Thursday, January 31, 2019 - 9:00am
Commuting alone to work by car, especially over long distances, is bad for your health and the environment. Booz Allen's efforts to change this situation for the better have been recognized for the thirteenth consecutive year by Best Workplaces for Commuters, a national program promoting outstanding commuter benefits.
An award-winning "Way We Work"
The 2019 Best Workplace for Commuters list highlights companies that meet its National Standard of Excellence. Central to Booz Allen's multiyear designation are the firm's telework capabilities and its "Way We Work" strategy, which uses strategically located offices and an award-winning worksite hoteling model to make it easier for employees to get to and from work while reducing impact on the environment.
"The Way We Work not only helps reduce air pollution, traffic congestion, and fuel consumption, it improves our employees' quality of life by providing a flexible work environment and office spaces close to key clients," said Elizabeth Wayt, who heads Booz Allen's sustainability office. "As a workplace focused on delivering the best for our people and our world, it is an honor to be included on this list for yet another year."
Planet—and people—friendly
Where possible, Booz Allen leases offices near public transportation sites, such as the McPherson Square Metro station in the District of Columbia and the firm's new offices under construction near the Metro station in Bethesda, Maryland. Employees at main office locations have access to a secure covered garage for bicycle storage, a fitness center with shower facilities, food, ATMs, and more.
"Being designated as one of the Best Workplaces for Commuters is more than just a title; it means an employer is standing behind its commitment to provide employees with access to progressive commuter programs, like discounted transit passes, bicycle-friendly amenities, and rideshare solutions," said Julie Bond, Program Manager for Best Workplaces for Commuters.
The U.S. Environmental Protection Agency and the National Center for Transit Research created Best Workplaces for Commuters, which is funded by the U.S. Department of Transportation. The program assists participating employers with training, technical assistance, online tools, and forums for information sharing.
Learn more about Best Workplaces for Commuters and sustainability at Booz Allen.