Booz Allen Named a Best Consulting Firm to Work for by Vault
Booz Allen Named a Best Consulting Firm to Work for by Vault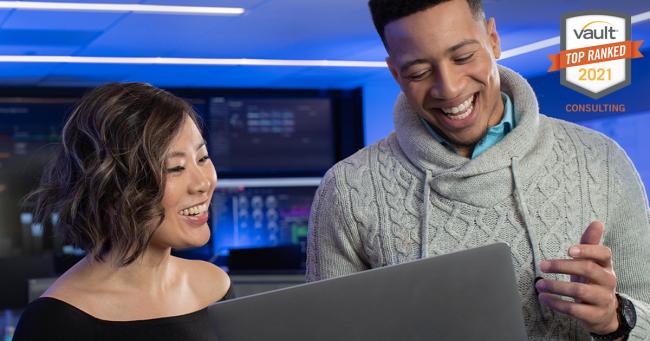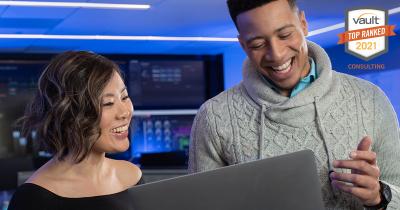 Wednesday, January 27, 2021 - 8:00am
Booz Allen ranks #4 on the 2021 Vault Consulting 50, the global career intelligence firm's signature list of the best consulting firms to work for.
This year's rankings represent a steady rise up in Vault's annual list—from #6 in 2020 and #21 in 2019—and for the first time, Booz Allen made Vault's top 10 for diversity.
Booz Allen also ranked in the top 10 of Vault's Most Prestigious Consulting Firms, which Vault describes as "the standard-bearers of the consulting industry—those global juggernauts whose influence and renown all but ensure near-universal name recognition."
"We're honored to receive this recognition from Vault and our employees, reinforcing and celebrating the people-first culture we strive to foster across our business," said Booz Allen Chief People Officer Betty Thompson. "2020 brought unprecedented challenges, but we were in it together, and our employees continued to bring their full selves to work each day in order to meet our clients' missions under extraordinary circumstances. We are prouder than ever to be considered an employer of choice, to keep our focus on our people and our communities, and to continue to empower and nurture our employees so they can truly change the world."
Strength in areas employees value
For the 2021 survey, Vault worked with more than 130 of the world's top consulting firms and received responses from more than 16,000 consulting professionals across North America, Europe, the Middle East, Africa (EMEA), Asia-Pacific, and Latin America. Rankings on the Best Consulting Firms to Work For list are based on a variety of weighted criteria including prestige, satisfaction, culture, compensation and work/life balance, and level of challenge, business, business outlook, and promotion policy.
In addition to its overall Best list, Vault posts company rankings based on specific industry sectors and criteria, where the firm also performed strongly:
Booz Allen's rankings rose in those areas consulting talent consider when choosing an employer: work-life balance (from #13 to #5), innovation (from #20 to #10), and formal training (from #21 to #11).
Booz Allen also ranked in the top 5 in critical business verticals public sector consulting (#2) and aerospace and defense consulting (#5); and ranked for the first time (#11) in data analytics.
Booz Allen ranked for the first time in several quality-of-life areas, including health and wellness (#6), satisfaction (#15) and firm culture (#19); with a strong rise in overall business outlook (#23 to #7).
Read more about the 2021 Vault winners and careers at Booz Allen.