Booz Allen Is Getting Kids Excited About STEM in Huntsville, AL
Booz Allen Is Getting Kids Excited About STEM in Huntsville, AL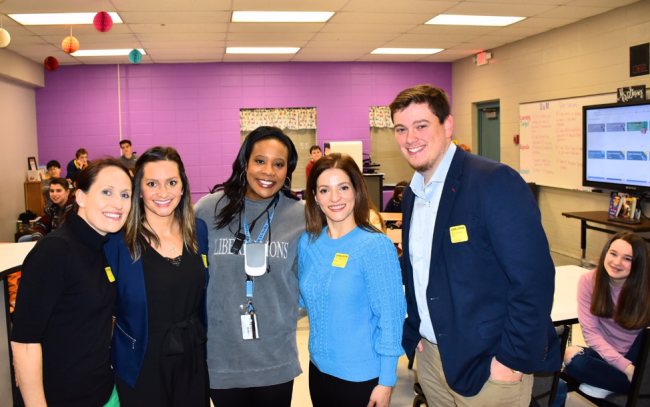 Tuesday, March 10, 2020 - 8:00am
The cell phones you use to connect with your friends. The vehicles you ride in to and from school.  The things that shape our daily lives all start as ideas—and engineers turn these ideas into reality.
Scientist Blake Fernandez and Lead Associate Shawn Lester from Booz Allen's Huntsville, AL office shared this message with students at Madison City Schools in honor of National Engineering Week. The goal: Engage youth early around STEM careers, starting with engineering and expanding to include cyber, computer science, chemistry, and other sciences.
Relating engineering to everyday life
"What is engineering? It's the application of math and science to invent things, design things, and build things to solve problems," Fernandez explained. 
At two events at Discover Middle School and Liberty Middle School, he and Lester explained engineering concepts and shared their own experiences. Fernandez was a Booz Allen Summer Games intern whose team won the 2018 challenge, and Lester is a lead associate on Booz Allen's Army account.
The team talked about different career paths within engineering, as well as high school and college level internships hosted by Booz Allen's Huntsville office.
Building the STEM pipeline—in Huntsville and beyond
They also encouraged students to consider engineering for their own career paths, particularly students who had not previously considered themselves in such a role.
"Engineering is a team sport," Fernandez explained. "It takes different types of people—boys and girls, shy and outgoing—to come up with creative, sometimes crazy and completely out-of-the-box ideas, and seeing if they actually work."
He and Lester introduced the different kinds of engineering—chemical, biomedical, ocean, electrical, mechanical, civil, and system engineering—and provided words of encouragement.
"If engineering sounds like something you want to do, learn all you can about math and science," he said. "Look around to see the engineering around you, ask how things work, and have fun!"
Learn more about Booz Allen's Huntsville office and engineering careers at Booz Allen.