Autonomous Vehicles, AI Co-Pilots, and More: How Booz Allen and Federal Leaders Are Reimagining Transportation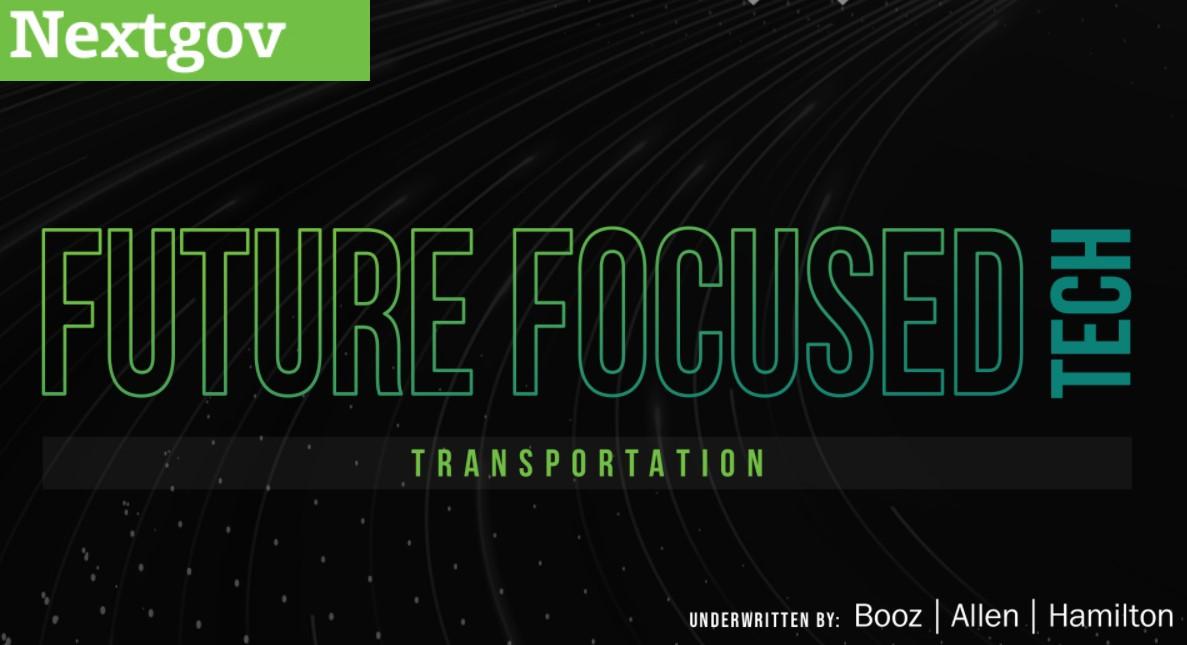 From drones and self-driving cars to supersonic and hypersonic vehicles, modern technology has transformed the way the world thinks about transportation. But these advancements have also presented complex challenges for government leaders to navigate.
Future Focused Tech: Transportation, a virtual event by Nextgov, explored this changing and critical landscape. Part of a series underwritten by Booz Allen, the discussion brought together federal agency and private sector leaders to talk about where the transportation sector is headed, and what's needed to get there safely and efficiently.
A critical juncture—and opportunity
Late last year, a U2 Dragon Lady spy plane took flight with a non-human "co-pilot" with support from a Booz Allen team. This was the first time AI has been put in charge of a plane, controlling sensor systems, gathering data, and more—an example of moving AI from the lab to the skies. According to Kathleen Featheringham, director of AI strategy and training at Booz Allen, this is just the beginning of AI's potential for transportation in the civil and defense sectors.
"Every mile traveled produces data that can be harnessed for safety, efficiency, and mobility for all," Featheringham said, especially now. In 2019, she said, US drivers logged over three trillion vehicle-miles on roads and highways and took 9.9 billion trips on public transportation. "The nation's transport systems are at a critical juncture. The infrastructure must be modernized and transformed."
Where is AI best put to use right now? "AI is good for efficiency, consistency, safety, and identifying potential unknowns," Featheringham said. Think proactive maintenance for aging infrastructure, predictive analytics for traffic flows, data fusion for weather alerts, and automated object recognition to improve safety on transportation surfaces like runways.
Whatever the application, she said, "AI will impact your entire organization and workforce." To increase the odds of successful AI implementation and adoption, she offered the following advice:
Include all parts of the organization in your AI vision, not just IT
Have open conversations about ethics and sustainability
Don't go at it alone
Strength in numbers
Parimal Kopardekar, director of NASA's Aeronautics Research Institute, emphasized the need for teamwork and connectivity in the evolution of air transportation.
As aircrafts become more autonomous, they'll need new sources of data—like information on weather conditions—to ensure safe operations.
As more of these vehicles enter our airspace in huge numbers for deliveries, inspections, and more, monitoring systems will need open architecture to share information about authorization, security, tracking, etc. 
And as modernization spans across geographies, systems, and modes, agencies will need to work together to pool their ideas and efforts.
Kopardekar illustrated the value of collaboration through a small but powerful example from late 2020. When farmers were throwing away food and food banks needed food due to the COVID-19 crisis, his team used aviation to connect the two, with more than 30 flights transporting more than 300 boxes of food.
The future, on land and air
Through expanded networks, new technologies, and COVID-19-driven needs and shifts, transportation today looks radically different than the landscape of even a year ago.
Jere Hayslett, director of air traffic systems for the Federal Aviation Administration (FAA), Kenneth Leonard, director of the Intelligent Transportation Systems Joint Program Office for the Department of Transportation (DOT), and Nicole DuPuis, director of transit technology and Innovation for the American Public Transportation Association (APTA) discussed projects and possibilities.
At the FAA, surveillance and monitoring is moving from radar to GPS data, for a sky-based, rather than ground-based view and access to areas that previously lacked visibility.
At the DOT, the 5.9 GHz band for short-range communications, as well as Citizens Band Radio Service and 5G, is offering great promise for vehicle monitoring, tracking, and safety.
In transit, mobility has been "almost flipped on its head" in terms of options, demands, and new additions to the tech stack: bus-finding apps, autonomous shuttles, "smart" asphalt, gateless station entry, contactless payment systems, and more.
Learn more about Booz Allen's work in Artificial Intelligence and Transportation and watch the full event recording.