Astellas Named a Best Place to Work for Lesbian, Gay, Bisexual, and Transgender Equality for Fourth Consecutive Year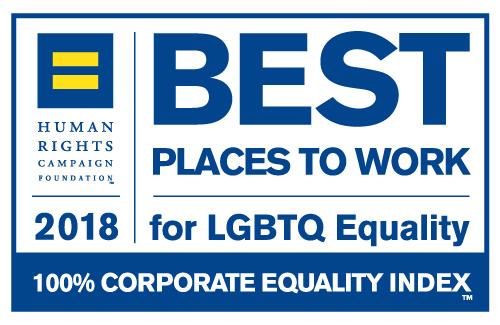 NORTHBROOK, Ill., Nov. 10, 2017 /3BL Media/ – For the fourth consecutive year, Astellas has achieved a perfect score on the Human Rights Campaign Foundation's (HRC) annual Corporate Equality Index (CEI). The 2018 CEI evaluates LGBTQ-related policies and practices including non-discrimination workplace protections, domestic partner benefits, transgender-inclusive health care benefits, competency programs and public engagement with the LGBTQ community. Astellas' efforts in satisfying all of the CEI's criteria again resulted in a 100 percent ranking and the designation as a Best Place to Work for LGBTQ Equality.
This comes just one week after Astellas' first-ever Ally Week during which more than 400 Astellas employees took the "Ally Pledge" and committed to be allies and support Astellas' LGBTQ employees.
Astellas' benefits cover all lesbian, gay, bisexual, transgender and questioning (LGBTQ) employees and their spouses or domestic partners. Coverage includes the company's extended benefits program, StarLife Family Care Solutions. This program amplifies traditional child and elder care offerings to embrace the broader needs of employees, their spouses or partners and their families.
Astellas also supports its LGBTQ employees and their allies through its active employee resource group (ERG), known as TAO. TAO stands for Together As One. This year, TAO hosted an informative and impactful training session for allies of the LGBTQ community by Out & Equal Workplace Advocates and had more than 400 Astellas employees take the "Ally Pledge" during Astellas' inaugural Ally Week (Oct. 23-27) held at the Astellas U.S. Headquarters. In June, Astellas also celebrated with millions in downtown Chicago and on social media by participating for the eighth consecutive year in the annual Chicago Pride Parade. Astellas flew the pride flag outside its Americas headquarters during the month of June – LGBTQ Pride Month – and again on National Coming Out Day – Oct. 11, 2017. In addition, TAO joined Astellas' other ERGs in a 5K walk/run during the National Sales Forum in Las Vegas, where TAO raised funds to support the Lambda Legal Defense and Education Fund, a national nonprofit committed to achieving full recognition of the civil rights of LGBTQ people through impact litigation, education and public policy work.
"Achieving a perfect score on the Corporate Equality Index for the fourth consecutive year highlights Astellas' commitment to be a diverse and inclusive workplace," said Linda Friedman, executive vice president, general counsel, and TAO's executive sponsor. "We strive to be an industry leader for the inclusion of all employees and this recognition highlights that commitment."
For more information on Astellas, visit www.astellas.us.
About HRC Corporate Equality Index
The Human Rights Campaign Foundation is the educational arm of America's largest civil rights organization working to achieve equality for lesbian, gay, bisexual transgender and queer people. HRC envisions a world where LGBTQ people are embraced as full members of society at home, at work and in every community.
About Astellas
Astellas is a pharmaceutical company dedicated to improving the health of people around the world through the provision of innovative and reliable pharmaceutical products. For more information on Astellas, please visit our website at www.astellas.us. For more information on Astellas, please visit our website at www.astellas.us. You can also follow us on Twitter at @AstellasUS, Facebook at www.facebook.com/AstellasUS or LinkedIn at www.linkedin.com/company/astellas-pharma.