Advancing Our Impact: 3M's 2023 Global Impact Report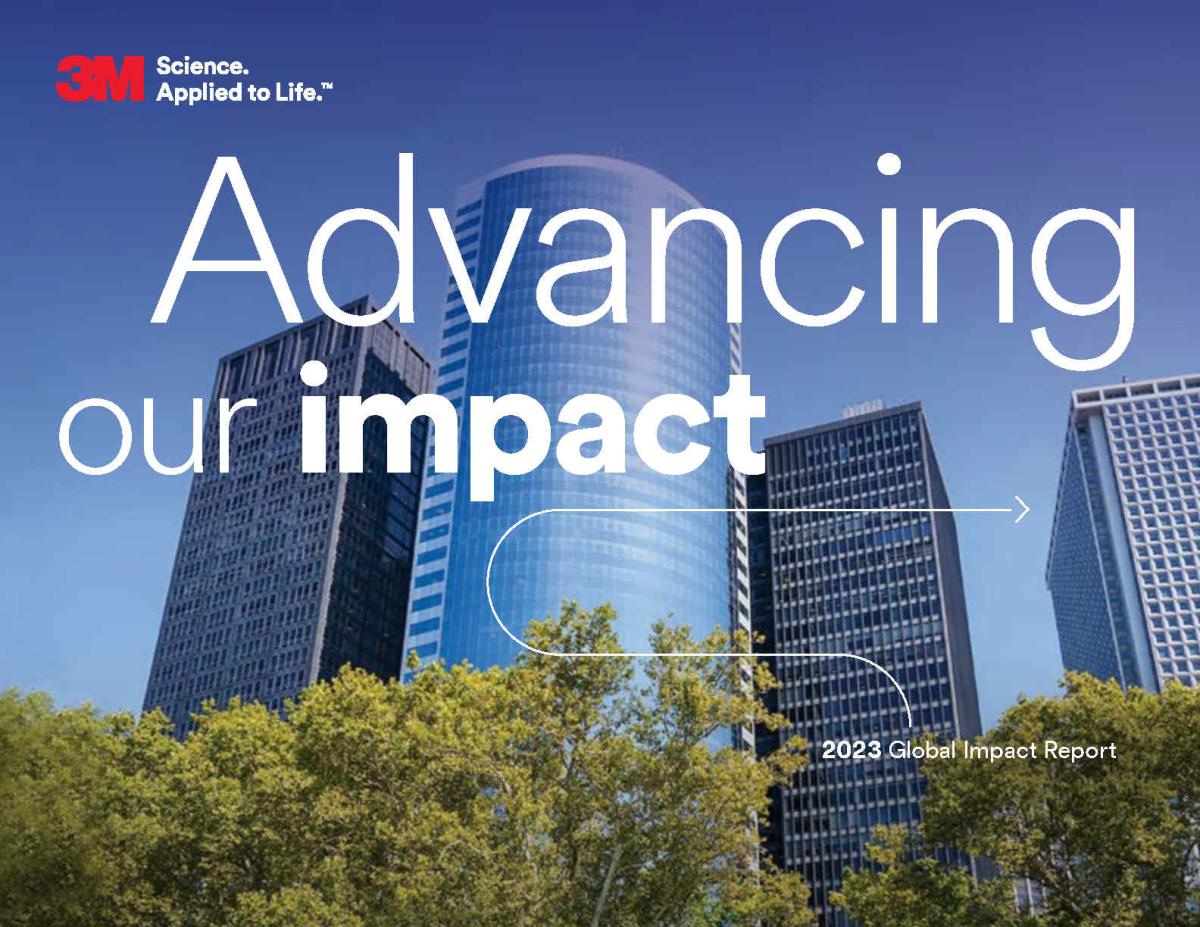 GlobalImpactReport_3M_040523.jpg
3M's 2023 Global Impact Report highlights the progress we've have made toward our goals – as well as the actions we took in 2022 to advance our impact in environment, social and governance (ESG). Our new ESG metrics (Excel, 4.6 MB, available in your downloads once clicked) provides a comprehensive summary of related performance data, maps, and charts.
Our actions in sustainability are rooted in our purpose to unlock the power of people, ideas and science to reimagine what's possible through the actions we take across our Sustainability Framework.
Science for Circular: We see the circular economy as an opportunity to create important solutions, inspire leadership, and implement disruptive change across all industries.
Since 2019, we have reduced water usage by 16.8%, indexed to sales. In addition, we are ahead of schedule in installing state-of-the-art filtration technologies at the largest water use locations globally.
Since 2021, we reduced over 54 million pounds of virgin fossil-based plastic use.
By the end of 2022, 44.9% of 3M manufacturing sites had attained zero waste to landfill status.
Science for Climate: Climate change remains one of our greatest challenges, we continue to focus on driving innovations to help provide climate solutions in our operations, products and communities.
Since 2002, we have reduced our absolute carbon footprint by more than 78%. And since 2019, we have reduced Scope 1 & 2 market-based emissions by 37.8%.
We surpassed our 2025 renewable energy goal of 50% renewable electricity in our operations with 51.9% renewable electricity use in 2022.
As of 2022, we've helped our customers reduce their GHGs by 121 million tons of CO2 equivalent emissions through the use of 3M products since 2015.
Science for Community: In 2022 alone, we continued to take meaningful steps towards a more equitable future and unlocking the power of diversity, including the launch of our new Equity and Community website.
To advance economic equity, we created over 1 million unique STEM and skilled trades learning experiences for underrepresented individuals.
In 2022, we invested $11.6 million in organizations and schools that promote STEM and skilled trades for underrepresented communities, as well as organizations that assist families and households facing unique challenges from centuries of systemic racism and inequalities that multiply generationally.
We've continued to achieve 100% gender pay equity in our global regions.
Throughout the rest of 2023, we will continue to bring our purpose and promise to life through the actions and progress we make on our goals. Join us on our journey of imagining and delivering a better world for everyone.
About 3M
3M (NYSE: MMM) believes science helps create a brighter world for everyone. By unlocking the power of people, ideas and science to reimagine what's possible, our global team uniquely addresses the opportunities and challenges of our customers, communities, and planet. Learn how we're working to improve lives and make what's next at 3M.com/news or on Twitter at @3M or @3MNews.
Media contact:
Tim Post