"Wonder Women" in STEM Continue to Thrive, Redefine the Traditional Career Path for the Next Generation
"Wonder Women" in STEM Continue to Thrive, Redefine the Traditional Career Path for the Next Generation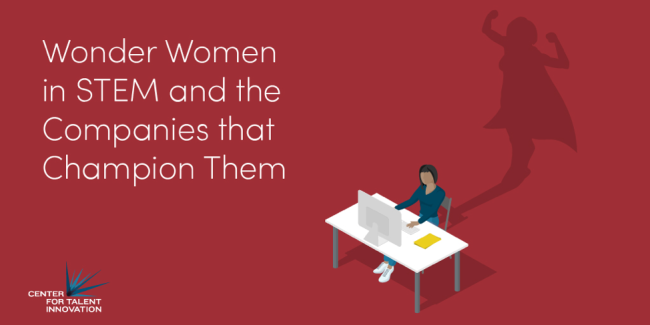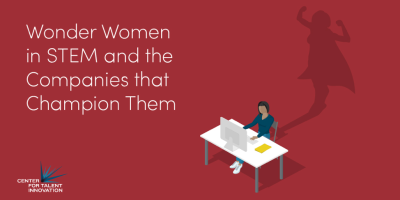 tweet me:
.@BoozAllen is proud to partner w/ @TalentInnovate on a study on #women in STEM. #WWinSTEM will identify data-driven solutions to improve gender equality in the STEM fields http://bit.ly/2yxo5W2
Wednesday, October 10, 2018 - 4:00pm
Although STEM employers spend billions of dollars to improve gender equality in their fields, women still face huge obstacles. Many highly-qualified women feel stuck in their careers, and more than half quit their jobs over time, according to Center for Talent Innovation (CTI) research. To address this, CTI's new study, "Wonder Women in STEM and the Companies that Champion Them," uses a data-driven approach to identify strategies linked to increased retention and career advancement for women, and shares insights from women who have achieved success in STEM careers. Booz Allen is one of the sponsors of this research.
"Our participation in the Wonder Women in STEM study is a reflection of our continued commitment to empower women who are traditionally underrepresented in STEM fields," said Cheryl Wade, diversity and inclusion lead at Booz Allen. "We want to champion the STEM women leaders in the workforce today and create a multiplier effect for those in the next generation."
The study, which surveyed 3,212 respondents between the ages of 21 and 65 with STEM credentials, ranks ten company-led initiatives by their effectiveness in retaining and advancing women in STEM roles:
A commitment to pay equity
An opportunity for employees to connect with female and minority consumers
Time outside of core job functions for innovative side projects
Sponsorship programs
Management training on empathy, integrity, or inclusion
Mentorship programs
Leadership development programs for women or people of color
Concierge services or family care
Employee resource groups
Anti-bias policies or trainings
"Companies can now prioritize specific interventions that effectively advance and retain women," says Pooja Jain-Link, senior vice president and head of research at CTI. "At the same time, individual women can also drive their own outcomes of success—regardless of whether or not STEM companies have these interventions in place."
To that end, the study also identifies six strategies used by successful women in STEM, independent from any employer-led initiative—including likelihood to invest in peer networks and confront situations when their contributions are ignored.
"This research is so important because it moves from examining the problem to sharing solutions," commented Lea Hurley, a Booz Allen participant in the research study and a leader in the firm's cybersecurity practice. "While we are nowhere near where we need to be as an industry, my experience as a cyber leader at Booz Allen offers me access to all of the critical components of how to successfully navigate a career in STEM as a woman. We have the right diversity and inclusion programs and we are investing in the right areas that will give our experts the opportunity to help our clients solve both current and future problems."
The complete list of research sponsors includes Audible, Bank of America, Bloomberg, BNY Mellon, Booz Allen Hamilton, The Depository Trust & Clearing Corporation, GE, Genpact, Intel, New York Life, PepsiCo, and Sanofi U.S.
About the Center for Talent Innovation:
The Center for Talent Innovation (CTI) is a New York City–based think tank that focuses on global talent strategies and the retention and acceleration of well-qualified labor across the divides of demographic difference including gender, generation, geography, sexual orientation, and culture. CTI's research partners now number more than 85 multinational corporations and organizations.
For more information on "Wonder Women in STEM and the Companies that Champion Them," please visit http://ow.ly/mNED30m9fRE
More From Booz Allen Hamilton
Friday, May 29, 2020 - 8:00am
Thursday, May 28, 2020 - 12:20pm
Friday, May 22, 2020 - 8:00am