The Wilson Celebrity Invitational in Partnership With Safeway, Donates Over $1.6 Million to Strong Against Cancer
The Wilson Celebrity Invitational in Partnership With Safeway, Donates Over $1.6 Million to Strong Against Cancer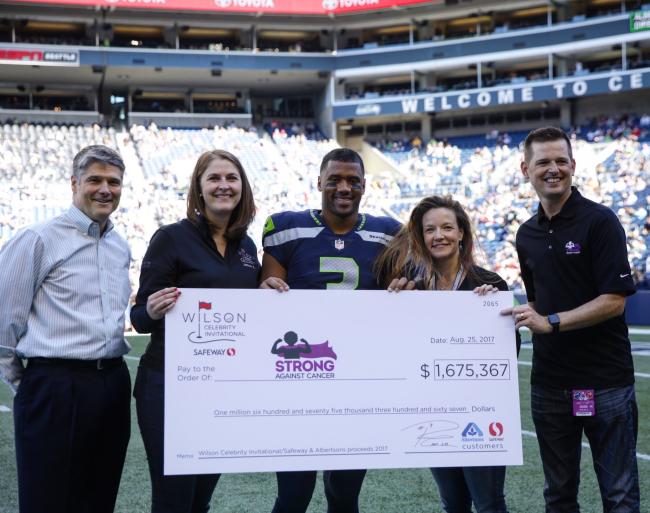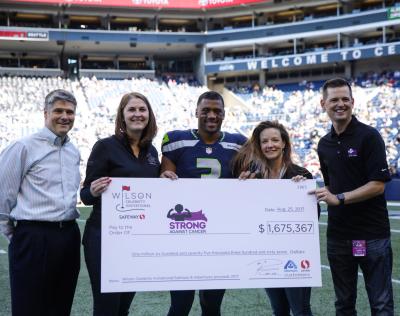 tweet me:
.@Safeway @WhyNotYouFDN raise over $1.6M for @seattlechildren to help cure #childhoodcancer http://bit.ly/2vHsQsR #StrongAgainstCancer
Thursday, August 31, 2017 - 8:00am
Seattle Seahawks quarterback Russell Wilson, on behalf of his Why Not You Foundation, will present Seattle Children's and its Strong Against Cancer initiative a donation of $1,675,367 during the Friday Seahawks versus Chiefs preseason game at CenturyLink Field. The proceeds were raised through a combined effort from The Wilson Celebrity Invitational charity event Wilson hosted in June and Safeway and Albertsons customers who participated in an in-store promotion during the month of July. 
"We were thrilled to support WCI this year, and look forward to what the future holds for our fundraising partnership," said Karl Schroeder, Albertsons and Safeway President. "Our company has been a longtime supporter of accelerating cancer research in the Seattle region, and the research supported by the Strong Against Cancer campaign is one of the most exciting advancements toward a cure that we have invited our customers to be involved in. It's extraordinary that Russell is using his platform and resources to bring attention to Strong Against Cancer, and we are humbled to be a partner in this effort." 
Read the full article on Why Not You Foundation