What a Sustainable Business Looks Like – Erb Institute Professor Sara Soderstrom Comments on Brewery Vivant
What a Sustainable Business Looks Like – Erb Institute Professor Sara Soderstrom Comments on Brewery Vivant
U-M Alum: Brewery Vivant Sustains People, Planet, Profit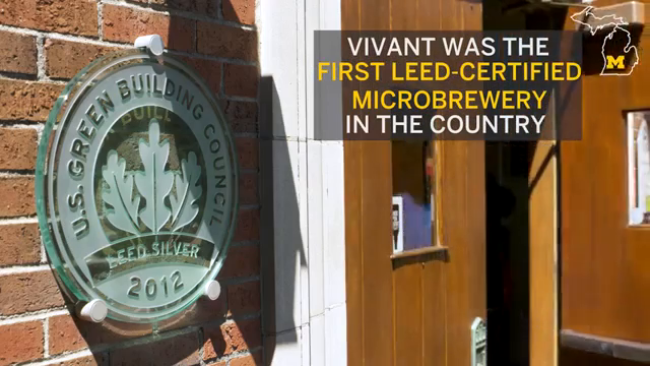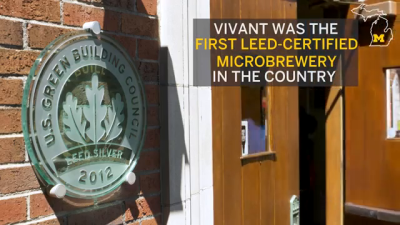 tweet me:
WATCH: @breweryvivant serving up #sustainability with every beer! @UMSEAS grad an inspiration for #sustainable + #business #beerthechange @SoderstromSara @erbinstitute http://myumi.ch/JmX3z #triplebottomline
Friday, August 10, 2018 - 12:00pm
BY GRETA GUEST
ANN ARBOR—When Kris Spaulding started Brewery Vivant, she did so mindful of the possibilities to create a sustainable business with inspiration sparked at the University of Michigan.
"At Michigan, I developed a more well-rounded perspective of what it means to be a good citizen of the world," she said.
-Spaulding and her husband, Jason, co-founded the first Silver LEED-certified commercial microbrewery worldwide in Grand Rapids. Combining Jason's brewery experience with an environmental focus from Kris' studies at U-M's School for Environment and Sustainability, the couple forged an enterprise that's highly tuned to its carbon footprint.
"We run this business with a triple bottom line approach putting equal emphasis on people and planet, not just profit," Spaulding said.
"Sustainability is a big part of our identity as a business, and we develop deeper relationships in our community because of it."
For example, the brewery derives its power from renewable energy sources; it uses cans instead of bottles because the aluminum can is more likely to be recycled, is easier to ship and reduces the carbon footprint; purchases more than 60 percent of supplies in Michigan; and it donates 1 percent of sales locally. A Certified B Corporation, the brewery meets high social and environmental standards.
Spaulding studied environmental policy and behavior at U-M and often reflects back on what she learned around the psychology of environmental action and how to get people to care enough to change their behavior.
"This comes through in how we train our staff about what it means to work at Vivant as well as in my efforts to influence the business community on the benefits of being a mission-driven triple bottom line business," she said. "As I look at how to have a bigger impact in my community, I also reflect back on the policy side of my degree and the importance of instigating change at that level."
More From University of Michigan: Erb Institute | Business for Sustainability
Thursday, June 11, 2020 - 3:00pm
Friday, March 20, 2020 - 10:00am
Tuesday, March 17, 2020 - 9:30am
Videos from University of Michigan: Erb Institute | Business for Sustainability