Voices at Viacom: "What Can People Like Me Do to Facilitate Change?"
Voices at Viacom: "What Can People Like Me Do to Facilitate Change?"
Javier Royal, an attorney for Business and Legal Affairs, was inspired to create spaces for people of color after an interaction during a Spark panel with Elaine Welteroth.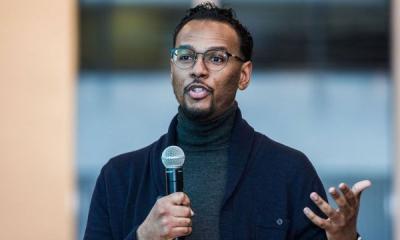 tweet me:
.@Viacom's Javier Royal was inspired to create spaces for people of color after an interaction during a Spark panel with Elaine Welteroth. Check out his story here: http://bit.ly/2uia7G9
Friday, March 22, 2019 - 11:00am
NEWSROOM: Viacom
CONTENT: Blog
In the Soundbites series, Viacom employees describe a project or experience that has influenced how they approach their work.
I was really excited about Spark, Viacom's global town hall. I signed up for at least eight sessions over the course of two days —a friend of mine even dubbed me "King of Spark."
For me, Spark was an on-site professional development summit. The takeaways fed into the idea of becoming a better Viacom employee, as well as just generally being a better human being. I've even talked about the overall execution of the summit to people outside of Viacom, and everyone is always blown away. They're just like, "That's so cool!" A number of people have been like, "I want to work at Viacom!" So, I really think that these sorts of efforts really do a lot to set us apart in the marketplace.
From Micro-Aggressions to Micro-Progressions
The panel with Elaine Welteroth was an interesting overview of her career trajectory and all the various publications she'd worked at, and how she ultimately ended up as the Editor-in-Chief of this major magazine, how she shifted things there, and the fact that she was able to "set the table."
After the panel, I asked her a question. The thrust of it was: What can people who, like me, are not necessarily in leadership positions at the company, but sort of operate more as foot soldiers, what can we do to effect change and to find a place at the proverbial table? I said 'How do people like me, who are trying to get to the table, effect micro-progressions for change? And help to facilitate the change we're all trying to get to?'
"A micro-progression? Did you just coin that term? We need to tweet that. Put that out into the world… I am definitely tweeting that later."  - Elaine Welteroth to Javier Royal.
Elaine talked about how she had that experience as well working at various publications before she got to Teen Vogue. I thought her answer was really great because she basically said that the way to influence change and create a seat at the table is to just be your authentic self.
I think she said that's what your activism becomes, that's what it looks like. I thought that was interesting because at Viacom we've been talking a lot recently about being content entrepreneurs, and I think that that's how I'm going to focus my entrepreneurship. It's somehow going to be tied to activism; it's going to be tied to creating spaces for voices like mine to be heard. And hopefully that will help to further shape the company culture.
Why I Love Viacom
At Viacom, I love the team that I'm on, I love the people that I work with, I love the challenges that I'm asked to wrestle with.
In Business and Legal Affairs, we're always thinking about 'how can we address challenges more quickly?' We think about how can we be, really, walking hand-in-hand with our production and development executives to help them get programs off-the-ground that much more quickly. And I really do think Viacom's CEO Bob Bakish, in tandem with so many other senior leaders, has helped to make those questions and our answers a priority.
At the end of the day, we make really cool programming and that's really fun to say. It's really cool to know that my day job is helping to make TV.
—As Told To Nicole Bitette—
Javier Royal is an attorney in Viacom's  Business and Legal Affairs unit, supporting the production and development for MTV, VH1, Logo, and BET. He joined Viacom in October 2014.
More From Viacom
Wednesday, October 9, 2019 - 10:05am
Monday, October 7, 2019 - 2:35pm
Friday, October 4, 2019 - 10:05am